Las Vegas judge passes ruling on Henry Ruggs III's BAC tests from fatal accident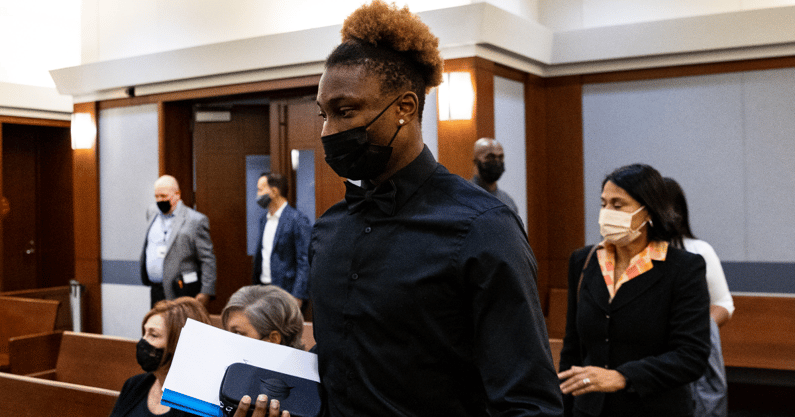 The Las Vegas judge presiding over the case of Henry Ruggs III's DUI accident that resulted in the death of 23-year-old Tina Tintor ruled on Tuesday that the former Raider's blood-alcohol test results are permitted as evidence, according to ESPN.
Ruggs' lawyers wanted the evidence thrown out as it showed he had a blood-alcohol content of more than twice the legal limit. He was allegedly speeding at 156 mph on a Las Vegas highway before his car crashed into Tintor's, killing her and her dog, and injuring himself and his girlfriend.
Ruggs' defense team argued that police did not have a legal reason to ask a judge to authorize a warrant to obtain the former Alabama receiver's blood.
"True probable cause did not exist" attorneys David Chesnoff and Richard Schonfeld said in a document submitted on May 23rd to Justice of the Peace Ann Zimmerman. The document continues, "The mere fact of Mr. Rugg's involvement in a fatal vehicle collision does not, in itself, give rise to probable cause to believe he was driving under the influence of alcohol," according to the Associated Press via ESPN.
Judge rules BAC test results 'permitted'
Zimmerman ruled that there is "more than sufficient evidence" for probable cause.
"There's obvious time constraints in applying for a search warrant for a blood draw," Zimmerman said. "Under the totality of the circumstances, there is more than sufficient evidence for a finding of probable cause for the issuance of the search warrant in this case.
"Nobody has mentioned so far that Mr. Ruggs was seriously injured in this accident and transported to the hospital, so he would have been unable to submit to field sobriety tests. Coupled with his refusal to answer questions, this does not result in a reward. … Motion to suppress is denied."
According to law enforcement, the two-car accident happened around 3:39 a.m. PT. The initial investigation shows Ruggs was driving a Chevrolet Corvette and hit the back of a Toyota Rav4. Officers found the Toyota on fire with a deceased victim inside.
Following the accident and Ruggs' subsequent arrest, the Raiders released him from the roster.