Miami Dolphins fire Brian Flores after three seasons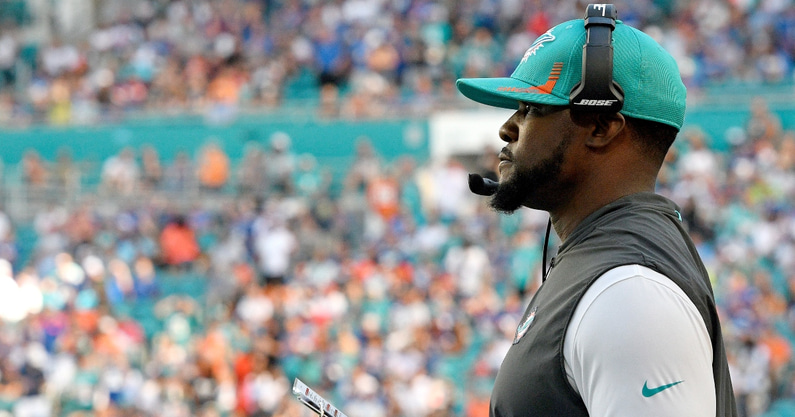 The NFL's coaching carousel has already gotten off to a fast start following the end of the regular season. In a little bit of a surprising move, the Miami Dolphins have decided to fire head coach Brian Flores after three seasons with the team, according to ESPN's Adam Schefter.
Flores was hired by the Dolphins ahead of the 2019 season. In his first year, he led Miami to a 5-11 record and a last place finish in the AFC East. Last year, the Dolphins finished 10-6 but finished just outside of the playoff picture. This year, Miami went 9-8, again missing the playoffs.
This season was a season of streaks for Flores and the Dolphins. After opening the year with a win over the New England Patriots, the Dolphins went on a seven game losing streak, falling to 1-7. Miami followed that up with a seven game winning streak, improving to 8-7. The Dolphins then split the final two games of the year, including another win over New England in Sunday's regular season finale.
Schefter also reports that Flores is expected to get serious consideration from other NFL teams as a possible head coaching candidate. Dolphins general manager Chris Grier is also not in danger of losing his job, according to Schefter.
Dolphins owner Stephen Ross on firing Flores
In his three years with the Dolphins, Flores coached to an overall record of 24-25. Flores previously spent ten years with the Patriots as an assistant under Bill Belichick. Miami was his first head coaching opportunity.
Following the firing of Flores, Dolphins owner Stephen Ross released a statement.
"I made a decision today to part ways with Flores," Ross said. "After evaluating where we are as an organization and what we need going forward to improve, I determined that key dynamics of our football organization weren't functioning at a level I want it to be and felt that this decision was in the best interest of the Miami Dolphins. I believe we have a talented young roster in place and have the opportunity to be much better in 2022. I want to thank Brian for his hard work and wish him nothing but the best in his future."
The next Dolphins head coach will have a talented roster that is close to being able to contend. Whether or not quarterback Tua Tagovailoa remains in those plans remains to be seen, as he has been a hot topic of discussion throughout the season.