NBA Draft: Seven of the most significant decisions to stay in or come back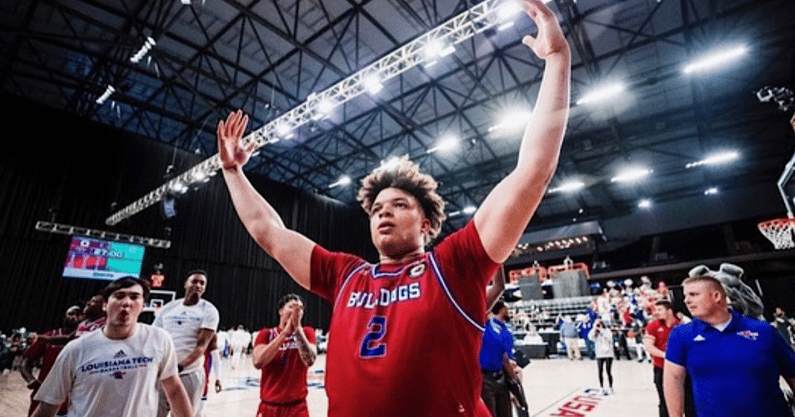 We are right in the middle of the NBA Draft Combine. June 1 is the decision date for players to take their names out of the NBA Draft process and elect to return back to college. Quite a few players are participating at the Combine who will significantly impact the 2022-23 college season were they to come back.
On3 explores seven of the most impactful decisions still to be made and whether or not we see them staying in or coming back.
Pre-combine Big Board

Post-lottery Mock Draft
6-7 275 Kenneth Lofton, Jr. | Louisiana Tech | Sophomore
Kenneth Lofton, Jr. has had to earn everything he has gotten every step of the way. Despite consistent production dating back to high school, people have overlooked him – well, that is not accurate; they saw him but have looked past him – because of his frame and weight. He is a unique player and does look conventional. In the everyday world, different and unique are interchangeable. At times, in basketball scouting, different can be negative and unique a positive.
Lofton, Jr. being considered an NBA prospect started with his Team USA run last summer, continued to his first-team All-Conference USA season this year and is currently being seen at the NBA Draft Combine. He is making a name for himself as a clear contender for a roster spot. He is in the college basketball transfer portal, so it will not be to Louisiana Tech if he comes back. Houston and Texas are considered the front-runners. If he comes back to college and makes a run with one of those two schools, his performance at this year's Combine created a different conversation for next year.
Prediction: Return
6-10 217 Moussa Diabate | Michigan | Freshman
Moussa Diabate has a very unique set of skills. His wingspan is pushing 7-foot-3, and he may have the best defensive upside in this draft class. Diabate has everything the NBA is looking at in centers, with toughness, the ability to switch and move his feet, and natural rim protection instincts.
The French native was first among centers at the Combine, measuring a 36-inch Max-vert, 2.9-second shuttle run, and a 3.26-second 3/4 court sprint. He moves in a unique manner that many guys his size simply do not. There are questions about the offensive game, but he is currently like a ball of clay, ready to be molded in any way you want. Another year in Ann Arbor may allow him to become more of a focal point on offense, but will it fully answer questions? Maybe not.
Prediction: Stay in
7-1 174 John Butler, Jr. | Florida State | Freshman
Overall, it has been a good NBA Draft Combine for John Butler, Jr. He has shown his athletic fluidity, shooting touch, and legit size. There is an undeniable and unmistakable upside with Butler, Jr. However; it is very hard to overlook the frame at this point. NBA organizations have entire departments for strength, conditioning, and player nutrition, so at times, lack of strength is not a significant deal. However, Butler's weighing in at less than 175-pounds at the Combine causes many to look twice.
A return to Florida State with natural freshman to sophomore year development would do wonders for Butler, Jr.'s stock. He is in a tricky situation with the weight because if you put on too much too quickly, you stand the chance of injury or losing your dexterity. But natural maturation with some weight gain could be precisely what the doctors ordered. He will get some late first intrigue in this draft, he comes back for a second year at Florida State, and his sights will be firmly set on the lottery.
Prediction: Return
6-8 227 Jake LaRavia | Wake Forest | Junior
When Steve Forbes signed Jake LaRavia from Indiana State, it did not catch any national headlines. However, LaRavia was part of the most significant turn-around in the ACC, ending the year second-team All-ACC. LaRavia is a play-making forward, an excellent passer with toughness and grit, and can make shots with range. He is a November 2001 birthday, making him still 20 years old, younger than some freshman draft entrants.
LaRavia pulled out of the five-on-five portion of the NBA Draft Combine, leading most to believe he got a draft promise he was comfortable. LaRavia led all players in the three-point star drill going 17 of 25, and he finished second overall in the shuttle run at 2.89 seconds. His Combine performance answered some of the athleticism questions, and he solidified his size and shooting abilities.
Prediction: Stay in
6-5 224 Trevor Keels | Duke | Freshman
Trevor Keels came into Duke with a big reputation, a McDonald's All-American and former WCAC Player of the Year. He started his college career with a 24-point showing in Madison Square Garden against Kentucky. He went on to have an up and down season, finishing with 11.5 points, 3.4 rebounds, and 2.7 assists. But he shot 41.9-percent from the field and 31.2-percent from three. Keels has the reputation of a good perimeter defender. With an August 2003 birthday, Keels is only 18-years-old.
A return to Durham would strengthen the Blue Devils' outlook, giving them another guard, another possible ball handler. Keels would be the natural leader of the team, the elder statesman. Develop consistency in scoring the ball and doing so with a more primary role. He may be good enough to get a first-round guarantee this year.
Prediction: Return
6-6 261 David Roddy | Colorado State | Junior
David Roddy is a physical specimen, looking every part of an NFL tight end. But once he gets on the floor, it is impossible not to see how he affects a basketball game. For starters, Roddy measured a 6'11.5″ wingspan, which talks about his ability to play more of a starting four, closing five positions in the league. He also shot 43.8-percent from three on 105 attempts last season. With good defensive metrics and excellent advanced analytics, Roddy has a clear path to finding success in the NBA.
With his high floor and low ceiling outlook, Roddy may not get a first-round grade. But there will be a slew of teams wanting to get him on their roster. I am not sure a return to college will do much to boost his stock and answer some of the scouts' questions. If he were to return, however, he should be on every pre-season All-American team there is.
Prediction: Stay in
6-4 165 Terquavion Smith | NC State | Freshman
Perhaps no player at the NBA Draft combine has a more divided outlook on his future NBA prospects than Terquavion Smith. Some see his length and athleticism and then fall in love with his shot-making and confidence. Some watched him play at NC State and saw a player make a couple of flash plays and then shoot his team out of the game. It seems there is no gray area with Smith.
With a December 2002 birthday, Terquavion is 19 years old. There are some very real tools; pop, confidence, and shot-making. There are also very real questions; frame/strength, IQ, shot selection, and handle. NC State is doing everything they can to put together a NIL package to get Smith to stay in Raleigh.
Prediction: Return
Others: Baylor Scheierman, Christian Braun, Julian Strawther, Dalen Terry, Josh Minott, Calab Houston