Report: Patriots trade Jarrett Stidham to Raiders in swap of late-round picks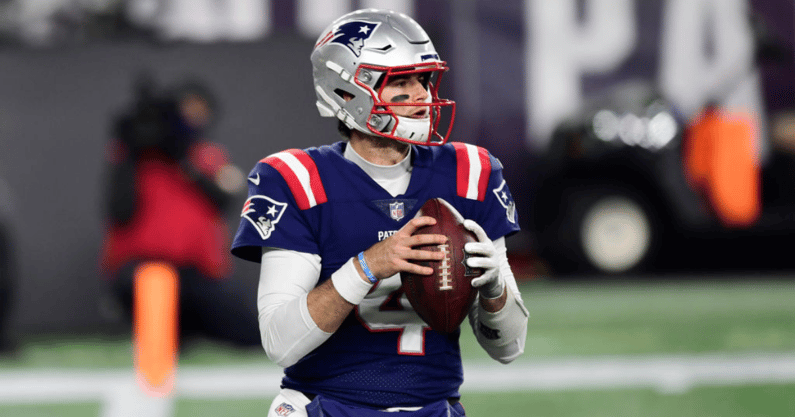 The New England Patriots have traded backup quarterback Jarett Stidham to the Las Vegas Raiders, according to NBC Sports Boston's Albert Breer. To complete the deal, he will be packaged with a 2023 seventh-round pick in exchange for a 2023 sixth-round pick.
A former Auburn and Baylor star, Stidham was drafted No. 133 overall in the fourth round of the 2019 NFL Draft. He has only seen the field sparingly over his first three seasons, but now gets a fresh opportunity to establish himself as a capable backup in the league.
After the Patriots drafted former Alabama quarterback Mac Jones in the first round last year, it became clear that Jarett Stidham would serve as a backup or be traded. With the team again selected a quarterback this year in Bailey Zappe, there was no longer a future for the older player.
In Las Vegas, the Raiders have invested big in starting quarterback Derek Carr and brought in plenty offensive weapons to make another playoff run under new head coach Josh McDaniels, who coached his new backup over the past several seasons as a coordinator. With Marcus Mariota leaving the team for a starting opportunity with the Atlanta Falcons, the second-string job is up for grabs.
More about Jarrett Stidham
Jarrett Stidham started his college career at Baylor, winning the starting job as a freshman before opting to transfer in the wake of the school's sexual abuse scandal. He then spent one semester at a junior college, but did not play football there before announcing his decision to play for Auburn the following season.
Because the transfer portal and one-time free waiver did not exist, along with his JuCo stint, he missed a year of playing time to redshirt but quickly won the starting job in 2017. Over two seasons as a starter at Auburn, he threw for 5,952 yards with 36 touchdowns and 11 interceptions.
So far in his NFL career, Stidham has made eight appearances, completing 22-of-44 passes for 270 yards with two touchdowns and three interceptions.