NFL Free Agency: Darius Slay expected to stay with Philadelphia Eagles, could land new deal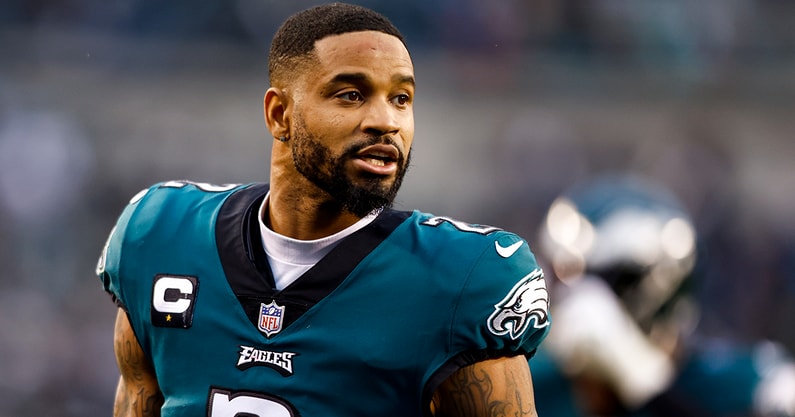 It appears Darius Slay is staying in Philadelphia. He's staying with the Eagles, according to multiple reports.
Reports said Philadelphia intended to release Slay after contract talks fell apart and the team even called the NFC East rival Dallas Cowboys about a potential trade, according to ESPN's Todd Archer. However, the team never officially released Slay, which is why ESPN's Adam Schefter reported a new deal could be in the works now that he could be staying.
Slay's wife, Jennifer, also tweeted out a pretty clear celebration about the pending decision.
CLICK HERE to WIN March Madness Prizes in On3's Bracket Challenge
Then, Slay tweeted out a message of his own.
"Back like I never left!!!" he said, with an eagle emoji. "Run it back."
It's significant news for the Eagles' defense, which is now keeping both starting cornerbacks from last year's Super Bowl team. James Bradberry is also set to return, which is huge for the unit as new coordinator Sean Desai takes over.
As it stands, Slay will be entering the final year of a three-year deal with Philadelphia. But with the way the contract is structured, he brings cap space through the 2026 season. If the Eagles decided to cut Slay, they would have faced over $12 million in dead cap for the 2024 season. The number gets cut in half in 2025.
Slay is coming off a big year in 2022 as a key part of the Philadelphia defense. He totaled 55 tackles and had three interceptions en route to his fifth Pro Bowl appearance.
The Detroit Lions drafted Slay in the second round of the 2013 NFL Draft out of Mississippi State, and he made his mark in a big way in 2017. That season, he had a career-high eight interceptions and 60 tackles to received first team All-Pro honors and make his first Pro Bowl.