NFL insider reveals extent of Najee Harris' abdominal injury, timetable for his return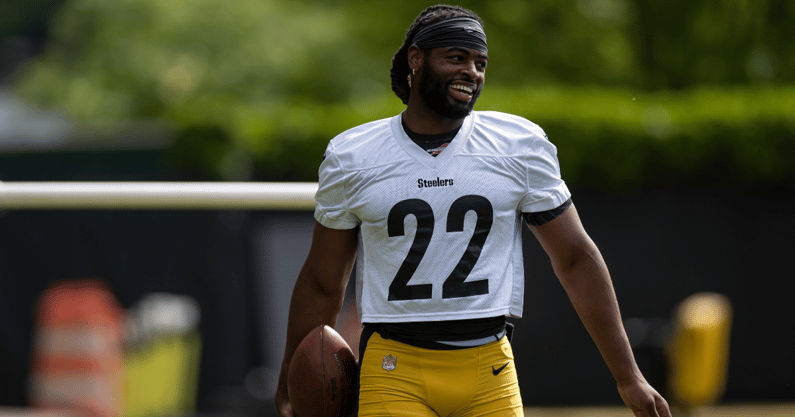 The status of Pittsburgh Steelers running back Najee Harris is up in the air after the second-year running back left a Monday night game against the Indianapolis Colts with an injury. The good news is, according to NFL insider Ian Rapoport, is that it is not a major injury.
Harris suffered an abdominal injury against the Colts and will be evaluated throughout the week to see if he can play. The Steelers travel to Atlanta for a matchup with the Atlanta Falcons this weekend.
"Najee Harris, who was ruled out of Monday night's game with an abdominal injury, did not suffer a major injury, sources say," Rapoport tweeted. "His status this week is up in the air, and he'll be reevaluated as the practice week goes on. But no significant injury is good news."
Harris had 11 touches against the Colts before getting hurt — 10 rushes for 35 yards and a touchdown plus one reception that went for one yard. If he can't play this weekend, the Steelers are likely to turn to Benny Snell Jr. and Anthony McFarland Jr. as alternative backfield options.
Harris left the Monday night game shortly before halftime
Harris suffered an abdominal injury and will not return to Monday night's game against the Colts, ESPN's Lisa Salters confirmed on the broadcast.
Harris left the game late in the second quarter and headed back to the locker room. At the time of his exit, he had 10 carries for 35 yards and a touchdown.
"Najee Harris went back to the Steelers locker room early before the first half even ended," Salters said. "He had been in and out of the game in the first half obviously dealing with something. The Steelers are now calling it an abdominal issue and Harris' night is over. He will not return to this game."
With Najee Harris out due to injury, look for Pittsburgh to turn to the duo of Anthony McFarland Jr. and Benny Snell Jr. The Steelers held a 16-3 advantage over the Colts at halftime. However, Pittsburgh was held scoreless in the third as the Indianapolis scored twice to take a 17-16 lead heading into the fourth.
Entering Monday night's game, Harris had rushed for 550 yards and three touchdowns on the season.