NFL makes final ruling on TJ Watt sack record appeal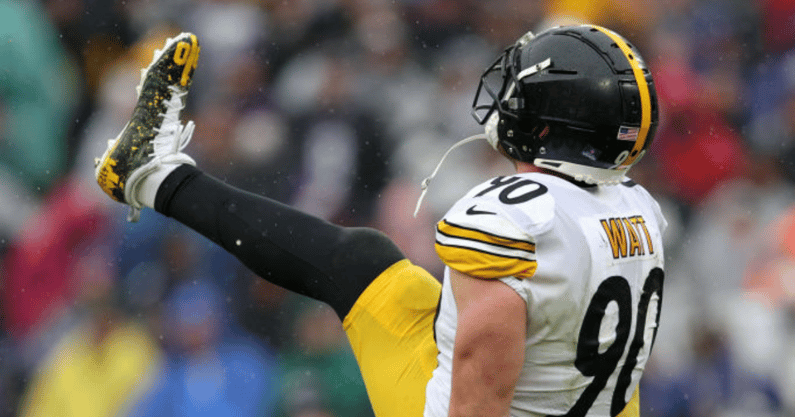 The Pittsburgh Steelers' inquiry on a potential record-breaking TJ Watt sack was reviewed, but the additional statistic was not granted, according to The Action Network's Darren Rovell. Watt's official season sack total now sits at 22.5, tying the NFL record set by Michael Strahan in 2001.
As Watt chased history on Sunday afternoon, a bad snap was covered by Ravens quarterback Tyler Huntley. Under most circumstances that would qualify as an aborted play and not be eligible for a sack. However, the Steelers argue that Huntley's attempt to get back on his feet after covering the ball make him a passer again before Watt collides and knocks the ball loose on a potential record-breaking play.
The Elias Sports Bureau handled the process after the conclusion of Week 18 action. Not only did the sack or tackle for loss debate hold importance in the NFL and Steelers record books, but it has also brought Las Vegas sportsbooks to a halt. According to The Action Network, BetMGM had not settled any bets on TJ Watt's potential record-breaking sack in anticipation of the Steelers' review on Sunday, which could have changed the outcome for many bettors on either side.
Darren Rovell also notes that the betting public was "largely" in favor of Watt breaking the record.
TJ Watt ties NFL record
Throughout the season, Watt has been the star for the Pittsburgh Steelers. While the team's offense has struggled, Watt has battled through injuries and more to lead the Steelers to a possible playoff spot.
In the first quarter against the Baltimore Ravens, TJ Watt thought he tied Michael Strahan's longstanding NFL sack record. On the Ravens opening drive, Watt took down Baltimore quarterback Tyler Huntley — a play where Huntley fumbled, and Watt celebrated.
However, the celebration was cut short by a controversial scoring decision. The scorekeeper at M&T Bank Stadium in Baltimore determined Huntley was a runner, and Watt was given no credit for a sack on the play. The Steelers star was still one sack behind Strahan.
Then, Watt left no doubts. With less than two minutes remaining in the first half, the former Wisconsin star took down Huntley with emphasis. Officially, the Steelers star has tied Strahan's record of 22.5 sacks in a season.
There was a little gamesmanship in the air earlier in Baltimore. Fortunately, it did not prohibit Watt from getting a share of the record. With ample time remaining in the game, the Steelers star will look to stand alone in the record book by recording another sack.