Treylon Burks did not complete first day of Titans rookie minicamp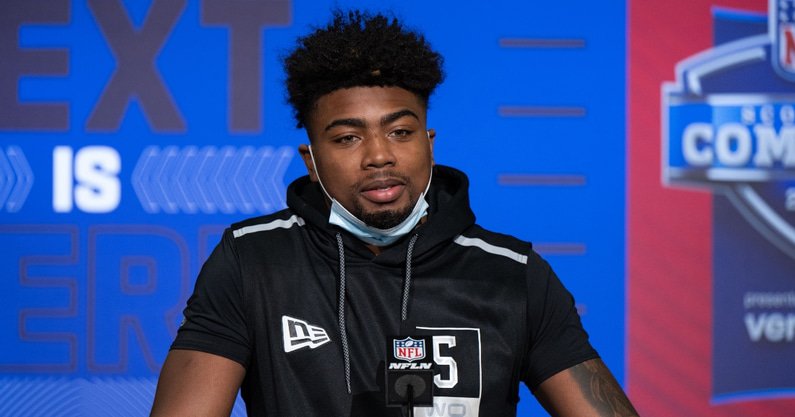 Rookie minicamp has begun for the Tennessee Titans, with first-round pick wide receiver Treylon Burks getting his first glimpse of life in the NFL. However, according to multiple reports, it was a difficult day for Burks as he was not able to complete practice on Friday due to the heat.
Reports state Burks was "laboring" through drills, falling short of breath, and eventually heading inside. The temperature read 86 degrees, something you would think Burks is used to after playing his college football at Arkansas. However, after trying to go through drills again with his position group, Burks had to head back into the facility. From there, Burks did not return to the field.
Tennessee head coach Mike Vrabel commented on the situation after practice, saying the franchise is trying to be "as smart" as they can be with Burks.
"I think it's hard to think that they can recreate, with a trainer, how we do things, and we see that with guys that have come back and started with our offseason program and guys that have joined a few weeks in. It's just different," Vrabel said about the situation. "I know that they're working, and they think they are trying to get in shape, but that's just not the case. That's something we have to focus on and try to make sure we're getting some work in, but with all of them, we're trying to be as smart as we possibly can."
When asked if Burks will be back out there on Saturday, he deferred to the trainer.
"If he's out there tomorrow, we'll coach him up," Vrabel went on to say.
Tennessee is investing heavily in Burks panning out, making a huge trade on the first night of the 2022 NFL Draft to select him. Wide receiver A.J. Brown was sent to Philadelphia in a package for the No. 18 overall pick, where Burks heard his name called by commissioner Roger Goodell. With one of the NFL's top playmakers heading out, the Titans will hope Burks is a suitable replacement.
Burks will have two more days to compete during rookie minicamp before the Titans enter a full offseason of workouts. Getting familiar with the offense and eventually, quarterback Ryan Tannehill will eventually be the goal heading into the 2022 season.
However, for now, Tennessee will be making sure Burks is healthy enough to make it through practice. Having their presumed top weapon in shape will be on their minds in the short term though.