Trevon Diggs reveals his feelings on falling to the second round in 2020 NFL Draft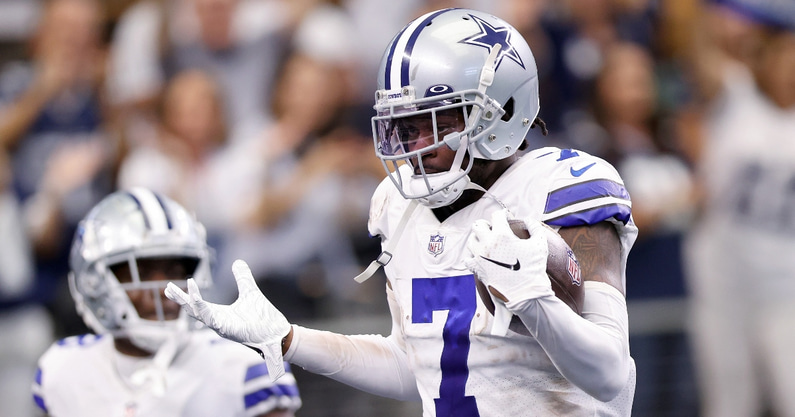 Dallas Cowboys second-year cornerback Trevon Diggs in the middle of a breakout year, and he's already snagged six interceptions in just five games. It was only a few years ago that the talented corner fell to the second round of the 2020 NFL Draft.
"I was disappointed," Diggs said. "I was really upset because I felt like I was one of the better guys in our draft class. But I'm extremely happy that I'm at the place I wanted to be. It all worked out."
It's been working out rather incredibly this season for Diggs, the younger brother of Buffalo Bills star wide receiver Stefon Diggs. Any ball that comes his way, he seems to catch. The talented corner has improved a lot during his second year in the NFL and has firmly planted himself in the running for NFL Defensive Player of the Year honors.
Nick Saban on switching him from wide receiver to defensive back
His former head coach at Alabama, Nick Saban, recently talked about the decision to move Trevon Diggs to corner when he was at Alabama.
"Well, first off, he was a really good receiver. And I think a lot of times guys have a vision of what they'd like to be. But because of his skill set, he had great ball skills, really good hands, long, very athletic. I just thought the guy would be a really good corner. And I thought it'd be more value for his future if he was a corner. Look, I don't make guys move positions. So it was his final decision to do it," Saban said.
"I'd say, 'Look, I think you've got a better future if you play defensive back.' Whether it was Corey Webster at LSU or Trevon Diggs, Cyrus Jones (Alabama). Those are all guys that we moved from receiver to corner that ended up playing in the NFL. And it's certainly worked out really well for him. I'm really proud of the way he's playing."
Trevon Diggs football career path
In 2019, Diggs was selected as a first team All-American by Pro Football Focus. He racked up three interceptions, eight pass breakups and 37 tackles during his junior season for the Crimson Tide.
He made the switch from wide receiver to corner during his sophomore season at Alabama. A former four-star athlete coming out of The Avalon School (Wheaton, Maryland.), Diggs put up big time numbers as a receiver in high school. As a junior, he hauled in 78 passes for 1,008 receiving yards, while bringing in 15 touchdown catches. He was a two-time All-Met selection by the Washington Post, an award given to some of the best players in the Washington, D.C. area.
The Dallas Cowboys face the New England Patriots on Sunday at 4:25 p.m. EST. The game will be televised on CBS.