WATCH: Cooper Kupp, Matthew Stafford deliver win for Rams on final drive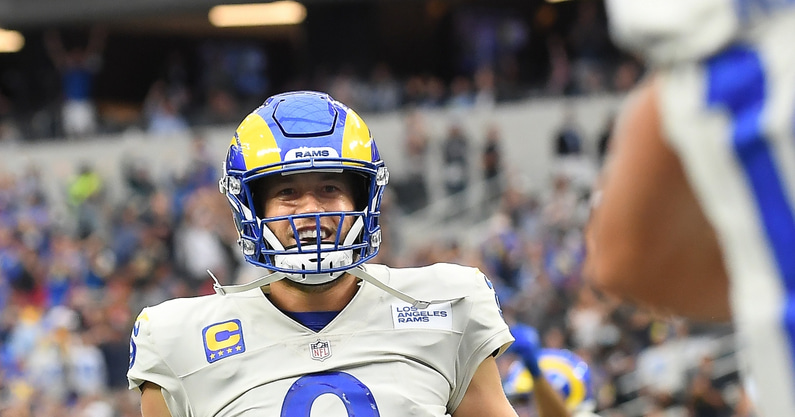 Seemingly headed towards overtime after a wild comeback by the Tampa Bay Buccaneers, Matthew Stafford and the Rams engineered a final drive to take the win on Saturday. Stafford completed a 20-yard pass and a 44-yard pass to Cooper Kupp to get his L.A. Rams in field goal range.
Stafford and Kupp connected for nine catches, 183 yards and a touchdown in the playoff victory. Kicker Matt Gay capped it all off with a 30-yard field goal in the final seconds of the game.
Matthew Stafford finished 28-for-38 with 366 passing yards and two touchdowns.
Commentators and spectators alike now wonder if they've just witnessed Tom Brady's final NFL game. Only time will tell. Either way, it's the L.A. Rams moving on in the race for Super Bowl 56.
Cooper Kupp catches 70-yard touchdown bomb
Last week, Los Angeles Rams quarterback Matthew Stafford got the monkey off his back and won his first career NFL Playoff game after going 12 years without a victory with the Detroit Lions.
And this week, Stafford is putting on a clinic through a quarter and some change, as he's led the Los Angeles Rams to a quick, 17-3 lead over the defending champion Tampa Bay Buccaneers. Stafford's second passing touchdown of the day came on the Rams' third drive of the game, as Los Angeles has yet to come up empty-handed, and it was a doozy.
After a 64-yard Buccaneers punt, Stafford picked up the drive from his own 40-yard line, thanks to an errant kickoff. After a Cam Akers rush resulted in no-gain, the Buccaneers came up with a big sack. They drove Stafford back to his own 30-yard line. The only problem for Tampa Bay was that Stafford must have noticed how long it took them to get set up, so he ran no-huddle, and the Buccaneers inadvertently left open Cooper Kupp — the NFL's leading receiver by most every metric — all the way down the field.
What ensued was a perfectly-placed 70-yard bomb by Stafford, giving the Rams a 17-3 lead.