WATCH: Dalton Schultz catches a 31-yard touchdown pass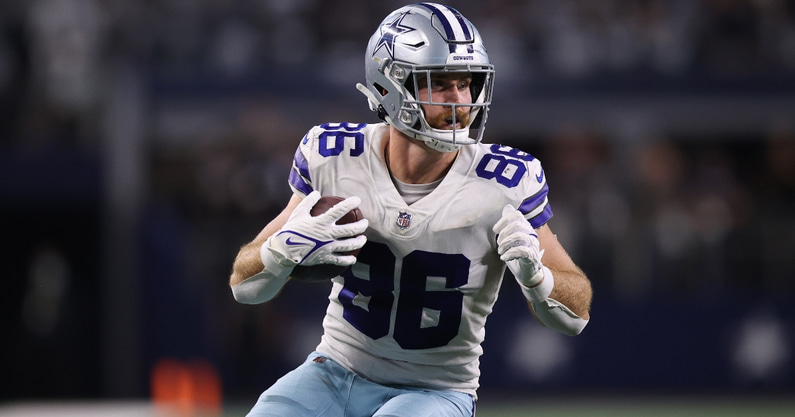 The Dallas Cowboys-Las Vegas Raiders game got really wild and crazy in the fourth quarter. Dallas quarterback Dak Prescott threw a touchdown pass to tight end Dalton Schultz to tie the game at 30-30 with less than three minutes left in the game.
Check to watch the touchdown pass below.
It was a beautiful 31-yard touchdown strike up the seam from Prescott. It once again proved just how lethal the Cowboys' passing attack can be when Prescott and his weapons are healthy.
In regulation, Schultz had three catches for 46 receiving yards and one touchdown. Prescott posted a beautiful stat line in the shootout, throwing for 369 passing yards in regulation, while tossing in two touchdown passes and no interceptions.
Epic Thanksgiving Shootout
Both quarterbacks (Carr and Prescott) in this one threw for over 360 yards before the overtime session. Prescott threw for over 200 yards in the fourth quarter. He didn't have his top two receivers CeeDee Lamb and Amari Cooper for the entire game.
Dallas running back Tony Pollard had the most electrifying play of the game, when he returned a kick back 100-yards for a touchdown. The kick return cut the Las Vegas lead to 24-20 with seven minutes remaining in the third quarter.
More importantly, a referee face-planted while watching Pollard return the kick after tripping on a misplaced pylon on the sideline. The play will go down as one of the best football bloopers of the season.
Dalton Schultz
Schultz continues to prove that he's one of Dak Prescott's favorite targets in the Cowboys' offense. In 2020, he hauled in 63 catches for 615 receiving yards, while pulling in four touchdown catches. He's speedy and athletic in the open field and has great hands, a great recipe for a tough tight end to defend in the NFL.
Cowboys lose a heartbreaker
The Cowboys ended up losing this one 36-33 after the Raiders drilled a game-winning kick in overtime. Dallas was haunted by penalties in the contest. Most of them were warranted but some ended up being controversial, like the roughing the passer penalty on Micah Parsons. The Cowboys have dropped three of their last four games and will look to rebound next Thursday against the New Orleans Saints.