WATCH: Texas trolls Texas A&M after game-winning kick by Justin Tucker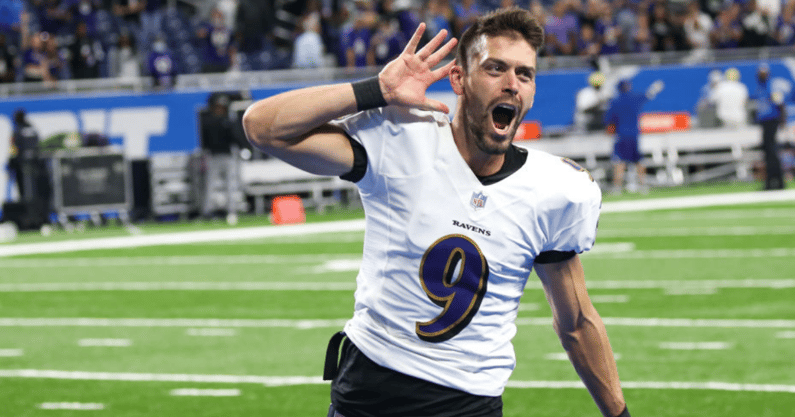 Former Texas kicker and NFL star Justin Tucker is no stranger to big moments or big kicks. He combined both on Sunday afternoon with an NFL record-setting 66-yard field goal to lift the Baltimore Ravens to a 19-16 win over the Detroit Lions at the buzzer.
The Ravens, who entered the game with a 1-1 record, were playing the winless Detroit Lions on the road. After the Lions converted on a fourth-quarter touchdown followed by a field goal, the Ravens found themselves losing, 17-16, and they called on Tucker to make history on the final drive.
Tucker's record-setting kick and game-winner brought back memories of his days at Texas, where he established himself as one of the best college kickers in the country from 2008-2011. One play against in-state rival Texas A&M looked particularly familiar.
While his attempt against the Aggies came from just 40 yards in 2011, the travel of the ball and follow-through from Tucker strike a perfect match. Not to mention the celebration which ensues.
The Texas football social media accounts posted the comparison, writing the caption "spot the difference" with their signature horns-up symbol.
More about Justin Tucker
In his time with the Longhorns, Justin Tucker played as both a punter and kicker. He averaged 40.5 yards per punt, punting 155 times over his four-year career. He also made 71-of-71 extra point attempts and was 40-of-48 on field goal attempts. Tucker went undrafted in the 2012 NFL Draft but signed with the Ravens, where he has played ever since.
Justin Tucker has already put together a borderline Hall of Fame career before the record-setting kick. The Westlake, Texas native has won a Super Bowl, been named to six All-Pro teams — four first-team All-Pro teams and two second-team All-Pro teams — and is the most accurate kicker in NFL history, with a field goal percentage just north of 90. He is 294-for-324 on career field goal attempts, and he has missed just four point-after attempts in 360 tries over his career.
Renewing the rivalry
Texas and Texas A&M rivalry has remained dormant since the Justin Tucker game-winner in 2011. When Texas A&M left the Big 12 for the SEC, it cuts ties with its old rival, choosing not to play a non-conference series over the past decade.
Now, with Texas set to join the SEC along with Oklahoma, the rivalry can be renewed in a new conference. Texas holds a 76-37-5 record head-to-head against the Aggies with the longest win streak reaching 10 from 1957-1966.