Broncos' Kareem Jackson suspended 4 more games for illegal hit vs. Vikings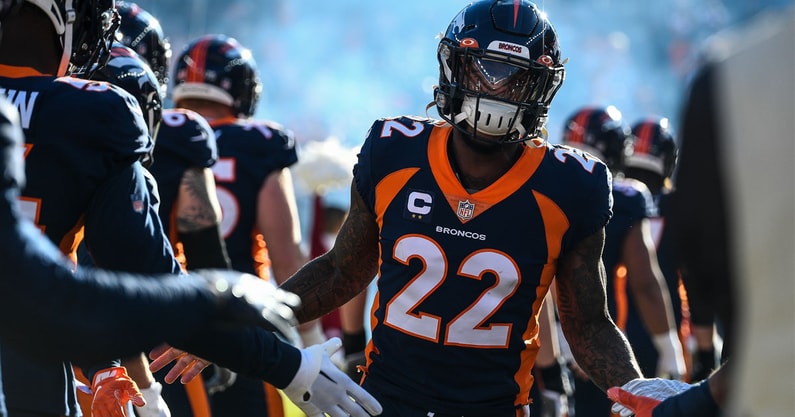 Denver Broncos defensive back Kareem Jackson has been suspended by the NFL for four games without pay after he was ejected during Sunday night's matchup against Minnesota Vikings' quarterback Josh Dobbs.
Jackson has since come out to appeal the suspension but would be missing out on over $550,000 of his salary if he were to miss all four games.
The punishment seems harsh for a reason, however, as the suspension is not just for the single hit, but for multiple illegal hits that have accumulated throughout the season. It will be the second suspension he will serve this season for the same infractions. The first, which came after a hit on tight end Luke Musgrave in Week 7's win over the Green Bay Packers, was also originally set at four games before being reduced to two.
The NFL has released a statement, via Ian Rapoport, on the matter.
"Kareem Jackson of the Denver Broncos has been suspended without pay for four games for repeated violations of playing rules intended to protect the health and safety of players, including during this Sunday's game against the Minnesota Vikings," the league statement reads. "NFL Vice President of Football Operations Jon Runyan issued the suspension for a violation of Rule 12, Section 2, Article 10 (a) which states that 'it is a foul if a player lowers his head and makes forcible contact with his helmet against an opponent.'"
It continues: "Jackson will be eligible to return to the Broncos' active roster following the team's Week 15 game against Detroit. Under the Collective Bargaining Agreement, Jackson may appeal the suspension. Any appeal will be heard and decided by the NFL-NFLPA hearing officers, Derrick Brooks or James Thrash."
NFL VP pens Jackson a letter in wake of suspension
NFL Vice President of Football Operations Jon Runyan also penned a statement to the Broncos' defensive back, via Rapoport, as he was the one to hand down the suspension.
"With 13:38 remaining in the first quarter, you were involved in a play that the League considers a serious violation of the playing rules. The video of the play shows that you lowered your head and made. forcible contact to Vikings quarterback Josh Dobbs. You had an unobstructed path to your opponent and the illegal contact could have been avoided.
"Illegal acts that are flagrant and jeopardize the safety of players will not be tolerated. The League will continue to stress enforcement of the rules that prohibit using your helmet to make forcible contact with your opponent. On the play in question, you lowered your head and delivered a forceful blow to the shoulder and head/neck area of an opponent when you had time and space to avoid such contact. You could have made contact with your opponent within the rules, yet you chose not to."