Report: Carolina Panthers LB Shaq Thompson likely suffered season-ending injury against Saints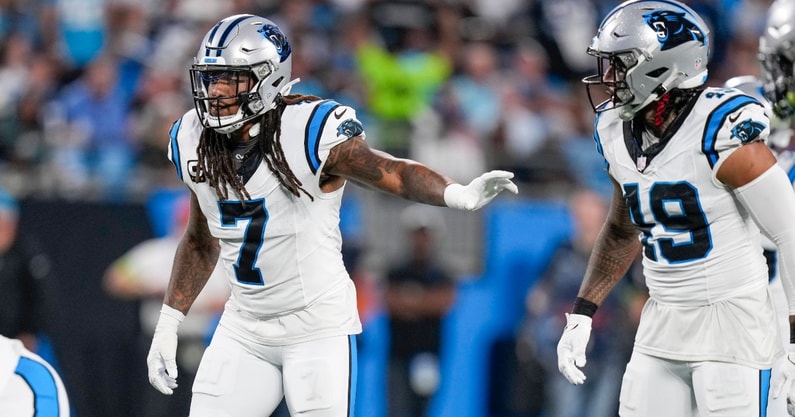 The Carolina Panthers and their fans held their collective breaths in Monday night's matchup against the New Orleans Saints. Panthers star linebacker Shaq Thompson had to be carted off the field with a leg injury. After the game, Carolina head coach Frank Reich confirmed the fears of all, revealing Thompson suffered a "significant" ankle injury.
NFL Network's NFL insider Ian Rapoport followed up on the story, giving a little more detail on the severity of the injury and the Panthers' veteran linebacker's status going forward. According to Rapoport, sources close to the franchise say that the Panther's star linebacker's injury is likely to keep him out for the rest of the season.
Thompson's injury happened in the first quarter of Carolina's Monday night matchup with New Orleans. Saints left tackle Trevor Penning was knocked to the ground, falling hard on the back of Thompson's leg and ankle. The Carolina linebacker remained down on the ground for some time as he could not make it off the field with his own power.
Ultimately, the medical cart had to be brought out to help Thompson off the field and to the back for further evaluation. Right after the injury, his return to the game was listed as doubtful with a shin injury. However, shortly after halftime, he was ruled out for the rest of the game.
While this is devastating news for the Panthers, who are off to a 0-2 start following back-to-back divisional losses to the Atlanta Falcons and Saints; there is some room for optimism. While sources within the franchise reported to Rapoport that this is likely a season-ending injury, his colleague at the NFL Network, Tom Pelissero, was given slightly more optimistic news. According to the information he was given, there is a chance that Thompson could be back this season.
"Panthers LB Shaq Thompson is believed to have suffered a fractured fibula, per source. He'll have more tests Tuesday to determine the severity and whether he has a chance to return this season," said Pelissero via X.
As the NFL expert pointed out, depending on the type of break and whether or not there was any additional damage to the surrounding area, Thompson has a chance to return to the field for Carolina before the end of the season. But for now, fans will have to wait until the true nature of Thompson's injury is revealed.