C.J. Stroud breaks Ohio State QB record in second NFL game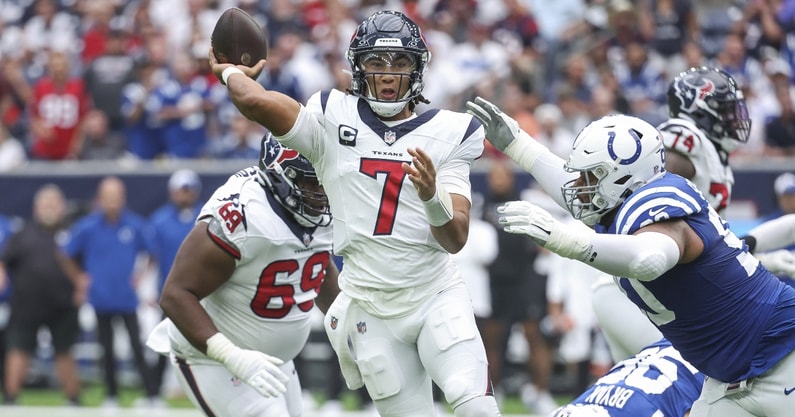 Though the Houston Texans are off to an 0-2 start in the 2023 NFL season, rookie quarterback C.J. Stroud is already setting records — Ohio State quarterback records, that is.
In the 31-20 Week 2 defeat to the Indianapolis Colts Sunday, Stroud threw for 384 yards and two touchdowns on 30-of-47 passing. Stroud's 384 passing yards are the most in a single game by an Ohio State quarterback in NFL history.
Stroud, Houston's No. 2 overall selection in April's NFL Draft, is doing his part to kill the narrative that all Buckeyes quarterbacks struggle in the NFL, while also giving Texans fans some hope for the future.
Stroud has 626 total passing yards, fifth-most by any rookie signal-caller through two games. Only Cam Newton (854), Kyler Murray (657), Justin Herbert (641) and Todd Marinovich (638) recorded more. Additionally, Stroud has completed 58 passes, second-most in NFL history for a quarterback through their first two starts. Cincinnati Bengals quarterback Joe Burrow owns the record with 60 in 2020.
Texans encouraged by C.J. Stroud's performance through two games
Texans head coach DeMeco Ryans has certainly been impressed by Stroud's performance.
"C.J. is a competitor, and he shows that," Ryans said after the game, via ESPN. "He continues to fight no matter what odds are stacked against him. No matter who's in front of him, it doesn't matter, and now we need everybody around him to continue to have that winning mindset and go play winning football."
While Stroud's prolific play hasn't yielded results just yet, the 21-year-old is confident wins are on the horizon.
"I feel like I did OK," Stroud said. "Of course, you always want to do better. Got to not take sacks in the red zone and got to score in the red zone. That definitely was the main reason why we didn't put any points on the board. We were driving the ball pretty well, just got to finish those drives.
"I feel like, overall, there's light at the end of the tunnel. I think there's hope… Think we showed that today that we're going to fight, and we're not just going to turn around and lay down just because the score flips early. We're going to keep fighting 'til the end."