Colin Kaepernick sends letter to New York Jets requesting to join practice squad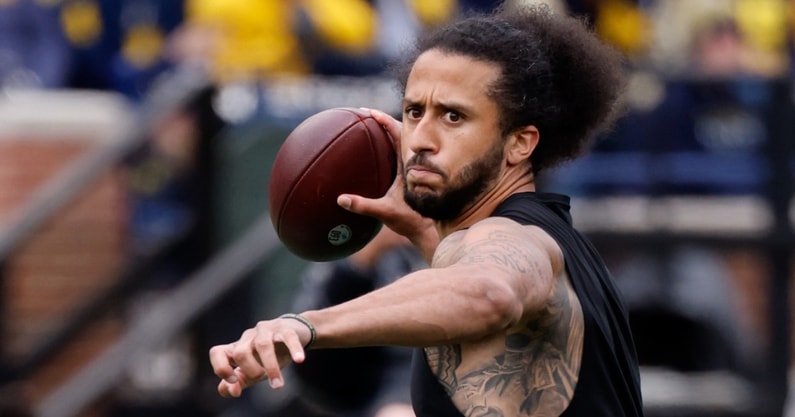 Rapper J. Cole has released a letter written by Colin Kaepernick in which the free agent quarterback asked the New York Jets for an opportunity to be signed to the team's practice squad.
Kaepernick sent the letter to the Jets this past Thursday, just 10 days after Aaron Rodgers suffered a season-ending Achilles injury in Week 1 against the Buffalo Bills. In his Instagram post, J. Cole said he released the letter to the public with Kaepernick's permission to show people "how much he still wants to play."
"I asked Colin @kaepernick7 if I could share this letter with the world," J. Cole wrote. "He was reluctant. My argument was that I believe the people and all organizations should know the truth about how hard he works and how much he still wants to play. And always has. In the end, he agreed to let me.
"I wish the @nyjets organization luck. My boy @bas is a big ass fan so I saw the heartbreak of every Jets fan when Arod went down @richeisen Everyone from players, to coaches, to execs are feeling the pressure I'm sure. I hope y'all can turn it around, and I hope there's a spot out there for my boy Kap. PEACE."
Kaepernick has been out of the league since the 2016 season. The 35-year-old has been working out and staying in shape, however, while looking for another opportunity. Over the duration of his six-year career, Kaepernick notched a record of 28-30, while throwing for 12,271 yards, 72 touchdowns and 30 interceptions on 59.8% passing. He accumulated 2,300 yards on the ground and scored an additional 13 rushing touchdowns.
Colin Kaepernick remains unsigned as Jets go in different direction
The Jets, meanwhile, have dropped back-to-back games with 2021 second-overall pick Zach Wilson under center, scoring just 20 combined points in the Week 2 defeat to the Dallas Cowboys and the Week 3 loss to the New England Patriots.
Though Wilson has continued to get the vote of confidence from head coach Robert Saleh, general manager Joe Douglas brought in a veteran quarterback Tuesday. Instead of taking a chance on Kaepernick, the Jets signed Trevor Siemian, whom the Cincinnati Bengals released on Aug. 29 after he failed to beat out Jake Browning for the backup job.
With another vacancy filled, the wait continues for Kaepernick, who said over the summer he wouldn't give up on pursuing opportunities.
"I'm going to keep pushing," Kaepernick said. "I'm going to keep fighting for it because I know I can step on the field and play. Every workout, every opportunity I've had to show that, the feedback has always been positive. Everything from, 'He's still an elite player,' to 'The workout was great; it was better than expected.'
"When I had my workout with the [Las Vegas] Raiders last year, even training with guys, there's a decent amount of people who may have forgotten what I was capable of doing on the field, so any chance to be able to remind people of what I can do out there, I look forward to and embrace, and I look forward to the day that I get to step on the field and show people what I can do."