Dallas Cowboys return man makes bold promise amid NFL rules change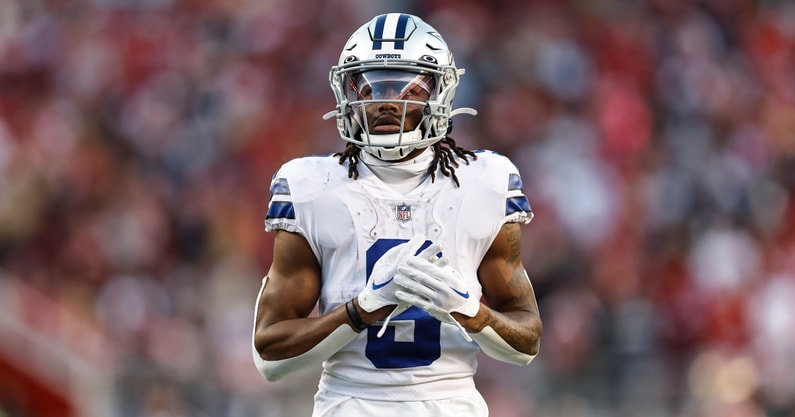 When the Dallas Cowboys signed KaVontae Turpin, it was a feel-good story. He had just been named the USFL MVP, playing for the New Jersey Generals. Turpin then came back to the Dallas-Fort Worth area after playing his college ball at TCU, earning a role under head coach Mike McCarthy.
Special teams were where Turpin was going to be a star, serving as a kickoff returner. He lived up to the billing, earning a trip to the Pro Bowl. Turpin recorded 508 kick return yards and another 303 on punts during the regular season. In the Cowboys' two playoff games, he totaled 155 yards on kickoffs.
But now, the NFL is practically eliminating returns. All fair catches will now be brought to the 25-yard line, encouraging teams to do so. Turpin is not a fan of the rule and does not plan on calling fair catch during the 2023 season.
He is on the Dallas roster for a reason and is going to make the most of his opportunity.
"I don't care because I'm not fair catching nothing," Turpin said via Patrik Walker of DallasCowboys.com. "I'm being real with you — nothing."
This rule change is nothing new to the game of football. The collegiate ranks have seen players call for a fair catch only for the ball to be placed on the 25-yard line since the 2018 season. Five years later, the NFL is following suit.
Not everybody is happy with the decision from the league but it's another wrinkle of kickoffs practically being eliminated from the game.
Dallas Cowboys, KeVontae Turpin adjusting heading into 2022 season
Despite the success of Turpin, Dallas finished in the bottom five of kick return yards. They were also tied for dead last with the Houston Texans on attempts taken back with 22. However, 13 of those returns went for at least 20 yards. When Turpin did try to run it back, he was mighty effective.
Dallas has maybe the most recognizable special teams coach in the NFL, with John Fassel always finding a way to get creative. Especially if somebody is taking up a roster spot to be a kick returner, the Cowboys are going to brainstorm something up this offseason.
Of course, touchbacks are still going to be a thing, with most kickers having the leg to get the ball deep enough. But if they do come up a bit short, Turpin plans on taking full advantage.