LOOK: Micah Parsons shares hilarious reaction to huge Jalen Ramsey trade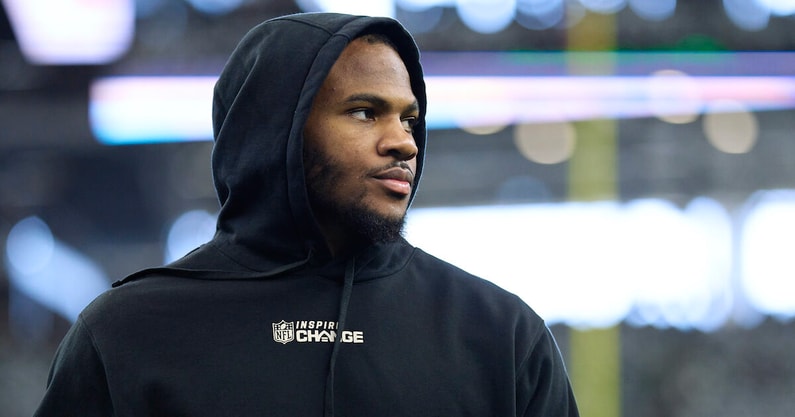 Dallas Cowboys linebacker Micah Parsons let his feelings out on Twitter on Sunday following the news that All-Pro cornerback Jalen Ramsey is not heading to Texas, but instead joining the Miami Dolphins.
"Man wtf!! Nvm …" Parsons tweeted in response to the breaking news alert.
Ramsey had been one of the bigger names that Cowboys fans hoped would wind up in Dallas when all was said and done. Former Cowboys wideout Dez Bryant even tweeted, "I heard the next stop is the big D." Alas, he is headed to Miami in exchange for a 2023 third-round pick and tight end Hunter Long.
After the Cowboys pass-rusher's initial reaction, Dolphins star Tyreek Hill tweeted back, "stop all the crying bro," with a laughing emoji.
Ramsey has two years fully guaranteed left on a deal that averages $20M per year. He's getting an additional $25M guaranteed as part of the trade.
According to his post-announcement tweets, Ramsey always wanted to wind up back in Florida where he went to college.
"I prayed for this specifically for about a month & now it's happening!" Ramsey shared.
Micah Parsons wasn't the only Cowboys player sharing their surprise at the big trade by Miami. Cornerback Trevon Diggs tweeted, "Dolphins loaded," on Sunday.
Cowboys could do 'something special' in free agency
Cowboys fans and players are still waiting on the organization's first big surprise of the offseason. Making the waiting worse, team owner Jerry Jones teased that Dallas would "do something special" for the right veteran free agent.
"Don't dismiss us doing something special with the right veteran free agent," Jones said. "At any place. I would, in a New York minute, if I think that it fits more than a short-term situation for us."
So far, Dallas has restructured the contracts for Dak Prescott and Zack Martin, clearing $30 million in cap space for 2023. They've also placed the franchise tag on running back Tony Pollard for roughly $10.1 million and put a second-round tender on right tackle Terence Steele.