Former Steelers CB Bryant McFadden says George Pickens needs bigger role in offense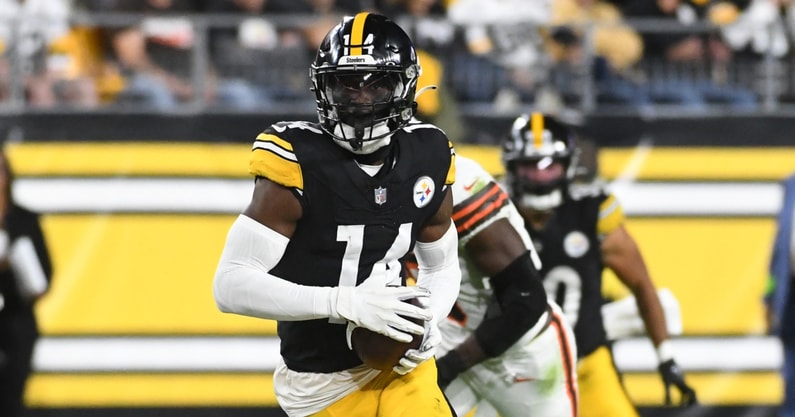 This offseason, second-year Pittsburgh Steelers wide receiver George Pickens garnered a lot of attention for how well he was playing and a viral catch he made over rookie Joey Porter Jr. To this point in the regular season, Pickens has played a key role in the offense but plenty of people want to see him featured more in the offense.
One person who wants to see George Pickens featured more heavily is a former Steeler. Bryant McFadden, a defensive back who played for Pittsburgh for six seasons, winning two Super Bowls, wants to see Pickens get a larger role in the offense.
"I, for one, believe that George Pickens, with his skill set and the type of talented player he is, he should see double-digit targets per game," McFadden said. "He is that type of player, but he got involved as well. This is what we need to see moving forward, a sense of consistency."
To this point in the season, Pickens has 13 receptions for 238 yards. That's an average of 18.3 yards per reception. He also has a touchdown reception. He has also been targeted 23 times by quarterback Kenny Pickett. That's about 7.6 targets per game, far fewer than the double-digit targets McFadden believes that Pickens should be receiving.
McFadden's comments about Pickens and the Steelers' offense come amid some notable struggles to start the season on that side of the ball. Pittsburgh is only scoring 18.3 points per game, with the team's opener against San Francisco proving particularly frustrating.
George Pickens leads the offense in receptions, receiving yards, and yards per reception. The Steelers are already relying on him a lot. However, he does have the skill set to help open up the offense even more, which could help create space for the running game and other receivers.
Despite those struggles on offense, Pittsburgh is still 2-1 to start the season. Most recently, Pittsburgh beat Las Vegas in a game where the defense held off the Raiders' fourth-quarter comeback attempt.
Mike Tomlin comments on Steelers' improvements on offense
Head coach Mike Tomlin noted that he feels the offense has been showing improvement through the first three weeks of the season.
"We're getting better. We had better. Everyone better be getting better, regardless of the outcome of games, obviously, but it's good enough to win the games. But there's some components to get better. The planning component, the coach component, the playing component, and then the adjustment component," Tomlin said.
"We've been dealing with all of those things and everyone does. But I just want to be really clear about just everyone's still very much in development, as are we, and I saw some signs there to build upon in the midst of earning a victory."