Iowa star Caitlin Clark to join ManningCast for Monday Night Football in Week 11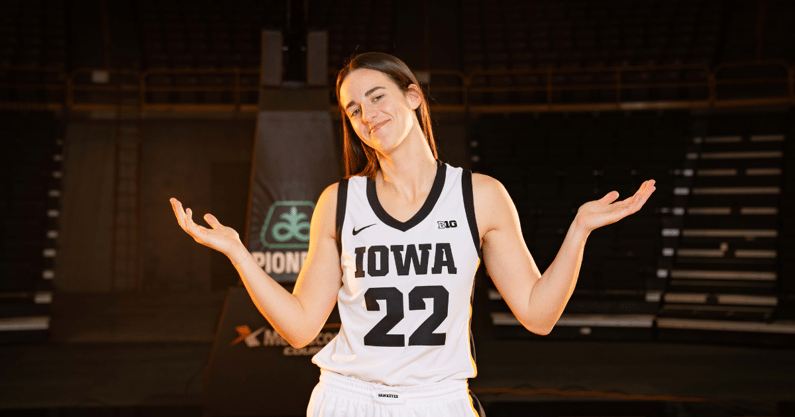 Monday night, the ManningCast returns for a marquee weeknight NFL game between last year's Super Bowl participants, as the Philadelphia Eagles visit the Kansas City Chiefs with revenge on their minds.
As part of the fun, there will be a ManningCast during this week's edition of Monday Night Football, and the guest lineup alongside Eli and Peyton is already looking pretty strong. On Monday morning, Omaha productions, Peyton Manning's entertainment company, announced that Iowa Hawkeyes' women's hoops star Caitlin Clark will be joining them during the Eagles-Chiefs broadcast.
Omaha Productions tweeted out the news, which you can see below, noting that Clark is a fitting choice since she's a lifelong Chiefs fan.
Iowa fans will have to tune into tonight's broadcast. Meanwhile, Clark joins former NFL quarterback and old Virginia Tech star Michael Vick on the guest list so far.
Clark discusses chance to break scoring record
Caitlin Clark is on the cusp of history. On Wednesday, the Iowa standout discussed the possibly of shattering the NCAA's all-time scoring record this season.
"I knew I was probably going to have a chance to break it, but it's not something I'm going to be, like, actively seeking out," Clark told the media. "Obviously, I'm sure our coaches will tell me if I'm at a game where I get close to that number, which would probably be one of our regular season games or in conference tournament. But I think if I just continue to be the player I am and do the things I've always done, that will come."
Clark's strategy has worked so far. In three seasons at Iowa, Clark has amassed 2,717 points, averaging 27.2 points per game. Moreover, Clark is efficient, posting a 46.5% career field-goal percentage and 37.7% rate from beyond the arc.
Last season was Clark's best yet. The Iowa native became the first player in Division I women's basketball history to record more than 1,000 points and 300 assists in the same season. With 2,717 career points, Clark is just 800 points away from breaking Kelsey Plum's collegiate record.
Of course, beyond just breaking that record, Clark is hoping to finally break through and win the national title with Iowa in what could be her final season. The Hawkeyes were so close last spring but came up just one win short. This year, she's hoping to change that.