Jalen Carter nearly intercepts spiked ball vs. Chiefs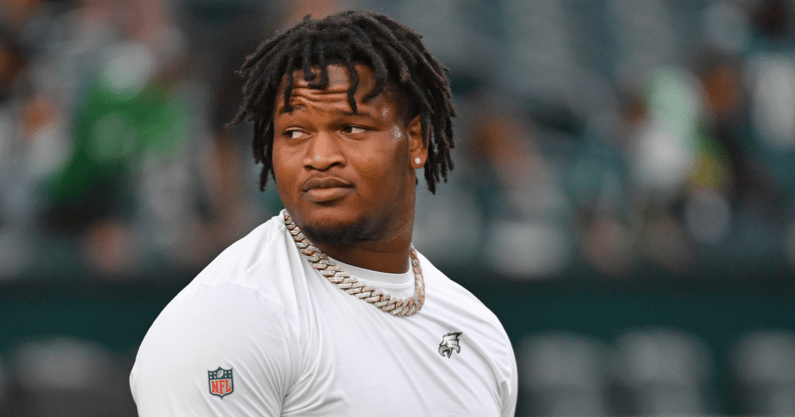 Philadelphia Eagles defensive tackle Jalen Carter nearly came away with the play of the evening on Monday night against Kansas City. The Chiefs were in field goal range and lined up to spike the ball as the final seconds ticked off in the second quarter.
Carter, however, anticipated the move and dove in between the legs of the center in an attempt to intercept it before Patrick Mahomes threw it to the ground. He was nearly successful in doing so as the ball hit his hands, but he was unable to hang on. You can view the moment below.
After Carter's near-interception, Kansas City went on to kick the field goal to go up 17-7 heading into halftime. It was a missed opportunity for the Eagles defense and Carter, who could have had his first career interception, but still impressive nonetheless.
So far in the game, Carter has one tackle as the Eagles trail 17-14 in the third quarter. The No. 9 overall pick out of Georgia will have his chance to make more plays down the stretch as Philadelphia aims to come back.
Carter has put up impressive numbers in his rookie season with 16 tackles (five for loss), four sacks and a pair of forced fumbles. He'll aim to one day add an interception to his stat line as well, though he'll have to wait a little bit longer after coming close Monday night.
Eagles DC Sean Desai on Jalen Carter: 'Impressive how much he loves football'
During the 2022 season, defensive lineman Jalen Carter was expected to be a top-three NFL Draft pick. However, largely due to off-field issues, he slid in the first round to where the Philadelphia Eagles were able to land him.
To this point, Carter has been a phenomenal pick for the Eagles, proving himself to be one of the top young defensive players in the game. He's impressed everyone within the organization, including defensive coordinator Sean Desai, who noted just how much Carter loves football.
"I don't know if it's a surprise, but it's impressive how much he loves football," Desai said. "He's like a sponge. He's asking for feedback. He's getting coached hard."
Part of why he's had so much success, according to Desai, is how well he takes to coaching because of his desire to improve.
"And even from his peers, he's taking a lot of coaching from his peers, and whoever he can feel like he can get information from, a lot of guys are touching him. Coach [Tracy] Rocker obviously is a primary key point. [Fletcher Cox], obviously, has been big. And even [defensive and football operations assistant] Matt Leo has done a tremendous job of pulling him aside and doing things with him, Coach [Jeremiah] Washburn," Desai said.
"That's the impressive part. He's a sponge, wants to keep getting better, keep being a big part of this defense and impacting and he's taking ownership."