Justin Jefferson becomes the fastest wide receiver to 5,000 receiving yards in NFL history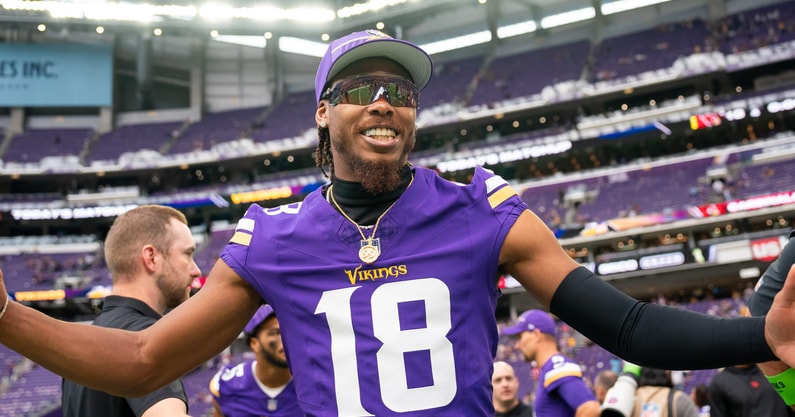 Minnesota Vikings wide receiver Justin Jefferson has already established himself as one of the greatest receivers in NFL history. At every turn, he's shattered numerous records and milestones during his first few years in the league.
On Thursday Night Football against the Philadelphia Eagles, Jefferson became the fastest receiver in NFL history to 5,000 receiving yards. It's just yet another impressive milestone in one of the most prolific careers in NFL history.
Jefferson eclipsed 5,000 receiving yards in just 52 games, tying Hall of Famer Lance Alworth for the fewest games needed in NFL history. There are now only two players in NFL history to clear 5,000 receiving yards before the age of 25—Randy Moss and Justin Jefferson.
Thursday night also marked Jefferson's fifth career game with 10 receptions and 150 receiving yards, the most by a player before turning 25 years old in NFL history, according to ESPN Stats & Info.
Justin Jefferson probably wants a deal in the Tyreek Hill range
The Vikings selected Justin Jefferson out of LSU with the 22nd pick of the 2020 NFL Draft. His impact on the Vikings and the NFL was immediate. In his first three seasons, he hauled in 324 passes for 4,825 yards and 25 touchdowns.
He earned a spot in the Pro Bowl in each of his first three seasons.
Last year was spectacular. Jefferson led the NFL with 128 receptions. His yardage total of 1,809 also was a league best. It's why he earned the NFL's Offensive Player of the Year award. Plus, his 2022 season set Vikings team records as he surged past Randy Moss. Overall, his yardage represented 37.5 percent of the Vikings' receiving yards.
So, the main question will be whether Justin Jefferson receives Tyreek Hill kind of money. The Dolphins wideout is the highest-paid receiver in the NFL. When he signed as a free agent from the Chiefs, Miami agreed to give him a four-year, $120 million contract. Raiders star Davante Adams had a somewhat similar pact to rank No. 2. The money was the same, but his deal is for five years. Then there's Cooper Kupp of the Rams. He earns $26.7 million a year to rank third in the league.
Need other numbers? A.J. Brown of the Eagles makes $25 million per year for fourth place. Stefon Diggs (Buffalo) and DK Metcalf (Seattle) are tied for fifth at $24 million.
On3's Suzanne Haliburton also contributed to this article.