Kyle Shanahan gives update on Dee Ford's injury status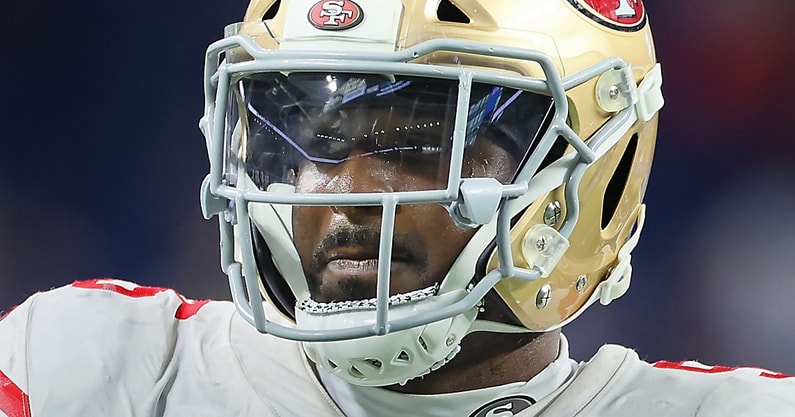 Despite making it through the early offseason on the 49ers roster, Dee Ford is still unlikely to play in the scarlet and gold again. During OTAs this week, head coach Kyle Shanahan shared that although the defensive end has been in the facilities, including this week for a physical, he still doesn't expect the former Auburn Tiger to be on the team in the fall.
"He's going to come in. He's been excused from minicamp," Shanahan said, via 49ersWebzone.com. "I think he's coming in to get his physical later this week. But no, he's not doing anything with us."
"I know we've gotten a good bill of health from his doctors, saying how good he is in this spot," Shanahan added. "We're going to check him out with our physical. I do not expect him to be on our team. But those are the [two] options that could happen."
San Francisco manager John Lynch revealed the team's plans for Ford in March.
"I don't see a lot of hope with him being a factor for us on the field moving forward," Lynch said regarding Ford, via NBCSportsBayArea.com. "I think we tried to be as patient as possible, and no fault of Dee, he just ran into a bad situation with his back, where he couldn't get healthy."
Injury effectively ends Dee Ford's career in San Francisco
Originally, Ford was traded from the Kansas City Chiefs to San Francisco, who signed him to a huge extension at the time. However, it seems like his time is coming to an unceremonious end with the franchise.
Over the course of his eight-year NFL career, Ford has accumulated 159 total tackles, 40.0 sacks and 12 forced fumbles. During five seasons with the Chiefs, the former Auburn standout totaled 137 total tackles, 30.5 sacks and nine forced fumbles. While with San Francisco, his numbers dipped. He amassed just 22 total tackles and 9.5 sacks over three seasons with the 49ers.
Understandably, the 49ers expected more out of Dee Ford when they gave him a five-year, $87.5M contract. Time will tell if another NFL team takes a shot on the former Auburn star in the future.