Report: Diontae Johnson got into altercation with Steelers coach during loss to Browns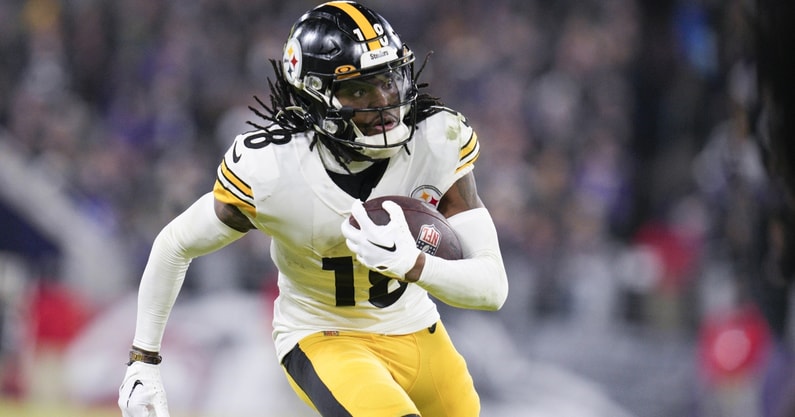 The Pittsburgh Steelers fell to the Cleveland Browns on Sunday in a 13-10 road loss, but apparently, some tempers were lost on the Pittsburgh sideline as well.
The Athletic's Mark Kaboly reported Monday that Steelers wide receiver Diontae Johnson displayed some frustration during the game, so much so that he had to be separated from an altercation with an unnamed coach on Pittsburgh's staff.
"Then there was Johnson getting visibly upset on the sidelines during the second half Sunday, which was significant enough that rookie offensive tackle Broderick Jones had to pick him up and carry him away from a member of the coaching staff. That led to a lengthy sideline talk between Johnson and coach Mike Tomlin during the give-and-take moment," Kaboly wrote.
Kaboly also added that Johnson refused to speak to the media after the game saying, "You all saw what happened."
Steelers quarterback Kenny Pickett admitted to having some communication issues with Johnson in Sunday's game after Johnson finished with just two catches for 18 yards on eight targets, including several missed passes.
Pittsburgh's offensive struggles have been well-documented this year, ranking 28th in the NFL in both yardage and scoring average with many calling offensive coordinator Matt Canada into question. Their struggles continued on Sunday, scoring just 10 points versus Cleveland, but it's clear that frustration is rising among their offensive players.
Johnson missed four games this season for the Steelers after suffering a hamstring injury in Week 1 versus the San Francisco 49ers. He was productive in his first three games back, hauling in 20 receptions for 254 yards and a touchdown. But in their last two games, Johnson has only recorded three catches for 33 yards.
He is not the only offensive player on the Steelers who's been frustrated lately, with another wide receiver George Pickens grabbing headlines after displaying his displeasure via social media. After having just two catches and negative yardage in the Steelers' Week 9 win over the Tennessee Titans Pickens posted "Free me" on his Instagram story, also scrubbing his social media clean and unfollowing Pickett, Tomlin, and the Steelers' official account.
Running back Najee Harris was more vocal with his frustration following Sunday's loss to the Browns.
"There's just a lot of stuff that just goes around that you guys don't see," Harris said. "I guess I'm trying to say it's just, I'm just at a point, man, where I'm just tired of this s**t."
The Steelers still have a 6-4 record despite their offensive shortcomings, and it will be interesting to see how they continue attempting to balance their overall team success with the frustration expressed by numerous offensive players.