Report: Jets taking multi-faceted approach to Odell Beckham, Jr. meeting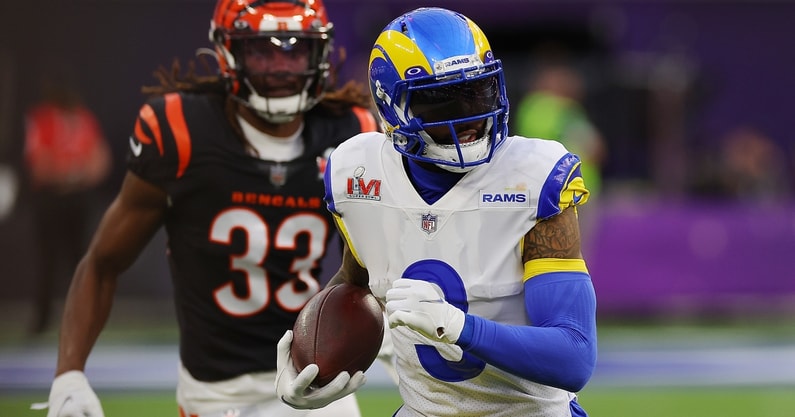 The recruitment of former LA Rams wide receiver Odell Beckham, Jr. has lasted for well over a year now. On Saturday afternoon, NFL Network's Ian Rapoport updated fans on the latest of the Beckham courting process. He reported that the New York Jets approach with him will be multi-faceted. They'll perform not only a physical, but also have a thorough discussion with OBJ of what he can expect in an Aaron Rodgers led offense with a deep wide receiver corps.
According to Josina Anderson, Beckham is planning on meeting with the Jets on Monday.
Beckham has enjoyed a prolific career in the NFL
It'll be interesting to see if he can return to form. Beckham has flirted with several teams across the league over the past year, so it's tough to say exactly where he'll land. Since joining the NFL in 2014, Beckham has been named a Pro Bowler three times. He's enjoyed a prolific career, but after the ACL injury, there are plenty of questions as to what type of form the former LSU star will show on the field. That being said, before he suffered the ACL injury, he was absolutely torching the Bengals' secondary in the Rams' Super Bowl win. In 96 games, Beckham has hauled in 531 catches for 7,367 yards and 56 touchdowns. The most famous catch he made during his career came against the Dallas Cowboys in 2014, when he played for the New York Giants. He extended his arm behind his head and reeled the football in with one hand.
In case you haven't seen it, check out the catch below. It's one of the most famous catches in football history.
It was a career defining grab that catapulted him to superstardom across the globe. He wasted little time in showing that he belonged in the National Football League. He earned NFL Offensive Rookie of the Year honors in 2014, after he hauled in 91 catches for 1,305 receiving yards and 12 touchdowns.
The last stint that he saw any game action came in the 2021 playoffs, when he hauled in 21 catches for 288 receiving yards and two touchdowns in the postseason with the LA Rams. While the science behind ACL recoveries has gotten more advanced in the past several years, Beckham is not getting any younger.
During his time with the LSU Tigers, Beckham had a breakout year his senior season, hauling in 59 catches for 1,152 receiving yards and eight touchdowns. He earned first team All-American honors and first team All-SEC honors that season.