Shane van Gisbergen has green light to pursue NASCAR in 2024, Supercars Championship boss says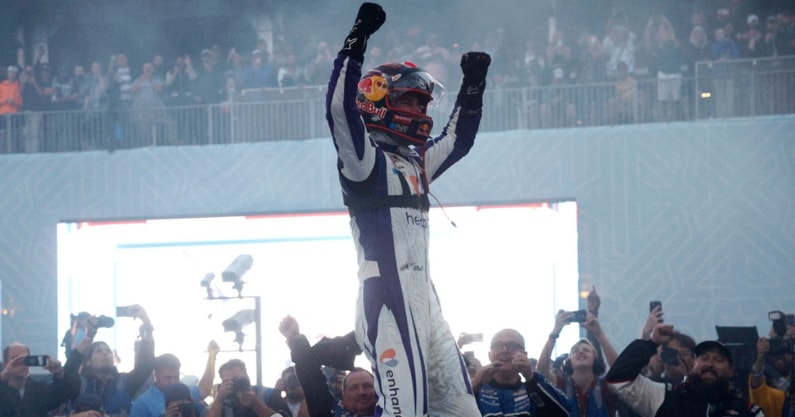 Triple Eight Race Engineering team principal Jamie Whincup won't "stand in" Shane van Gisbergen's way should the Supercars Championship driver pursue a ride in the NASCAR Cup Series in 2024.
"He's only contractually bound to us for next year," Whincup told Fox Sports News Monday. "Of course I'm trying to run the business as well as a I possibly can and I need the best drivers, but if any driver, engineer, employee came to me and said, 'Hey, my dream is to go to the other side of the world and do something else', I'm not going to stand in their way.
"I want to open up opportunities for all my staff. No doubt we're going to have some discussions in the next month or so and work out what he wants to do. He's certainly got my praise whatever he wants to do, and we're going to support him all the way."
van Gisbergen, 34, chased down Chase Elliott and Justin Haley in the final laps on a rainy Sunday evening to claim victory in the Grant Park 220 Chicago Street Race Sunday. He is the first driver to win his NASCAR Cup Series debut since Johnny Rutherford in the second qualifying race at Daytona in 1963.
Shane van Gisbergen coming to NASCAR Cup Series in 2024?
The reigning Supercars champion is locked in for one more season with Triple Eight Race Engineering after signing a new multiyear deal with the race team earlier this year. Ahead of his Cup Series debut, van Gisbergen said he wasn't enjoying the Supercars Championship as much as he used to.
"Supercars isn't that fun at the moment," he said. "I'm not really enjoying it as much and starting to think about other things and look around. But my motivation for Supercars is high. I'm still trying hard and pushing as hard as I can. It's complicated. Certainly now I've started watching NASCAR more again this year. Opportunities come up, and it's appealing."
Whincup said he'd be open to letting his star driver end his contract early to make the move to NASCAR.
"I certainly wouldn't stand in his way, no," Whincup said. "Of course there are contractual things we need to work through, but if someone really wants to go do something else, then I'm certainly not going to stand in his way, that's for sure."