Spire Motorsports finalizing deal to purchase Kyle Busch Motorsports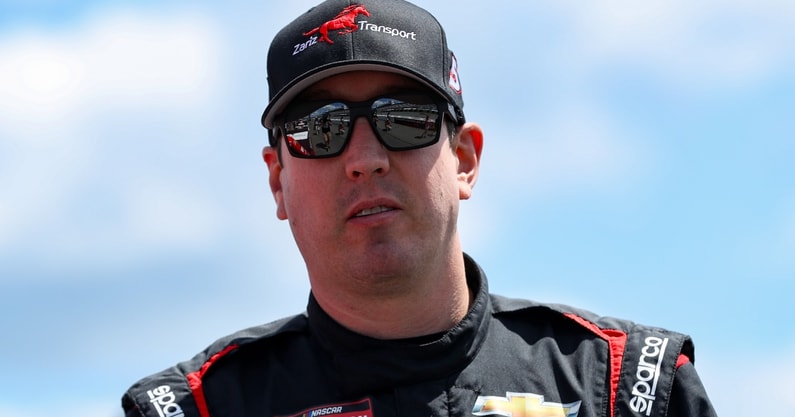 Big changes are coming to the NASCAR Truck Series, involving Kyle Busch Motorsports and Spire Motorsports.
According to Jordan Bianchi of The Athletic, Spire is finalizing a deal to purchase KBM, a shocking development as the team led by two-time NASCAR Cup Series champion Kyle Busch has been a staple in the Truck Series over the last decade.
"Spire Motorsports is finalizing a purchase of perennial NASCAR Truck Series contender Kyle Busch Motorsports, a deal expected to be completed 'soon,' people briefed on the situation but not authorized to speak publicly have told The Athletic," wrote Bianchi. "Spire acquiring KBM, owned by two-time Cup Series champion Kyle Busch, will allow Spire to relocate from its current shop in Concord, N.C., to KBM's expansive 77,000-square-foot shop in nearby Mooresville, N.C.
"KBM's larger shop will allow Spire to effectively better manage its expanding Cup Series team, plus its own Truck Series program that is expected to continue operating in some capacity next year. Spire's recent expansion to three Cup teams catalyzed it to begin inquiring and eventually strike a deal with Busch to buy KBM."
Afterwards, Busch confirmed the report, announcing via FOX's Bob Pockrass that he's sold Kyle Busch Motorsports to Spire.
"KBM: Kyle Busch announced today that he has sold KBM and Rowdy Manufacturing to Spire Motorsports," Pockrass tweeted. "Included in the sale are the assets of Busch's NASCAR Craftsman Truck Series team and the assets of Rowdy Manufacturing's chassis building operation and CNC machine shop."
Evidently, Spire is looking to improve their standing in both the Cup Series and the Truck Series, and the purchase of Kyle Busch Motorsports will help them do that. After once being considered a small team in NASCAR, Spire is looking to become the next Trackhouse, it seems.
As for Kyle Busch Motorsports, Bianchi pointed out that the team has been essential to the new-age of NASCAR, as it helped launch the careers of many top talents, including Christopher Bell, William Byron, Erik Jones and Bubba Wallace.
"That KBM served as the incubator for young drivers seeking to make a name for themselves was in conjunction with it being Toyota's flagship Truck organization, a relationship that included Toyota providing KBM resources, equipment and personnel. But that partnership ended when Busch left Joe Gibbs Racing, Toyota's primary Cup team, after the 2022 season to join Chevrolet-backed Richard Childress Racing," Bianchi wrote.
Moreover, Bianchi added that Busch's standing with Richard Childress Racing is not affected by the deal, and it will continue moving forward.
Alas, the purchase for Spire comes after inking Corey LaJoie to an extension, and brokering a deal with Trackhouse to have Zane Smith drive their second car in the Cup Series in 2024.
Exciting times are ahead for Spire, and we're willing to bet Kyle Busch will find another avenue to get his off-track fix in. It's a move nobody saw coming, and one that's more than fascinating for NASCAR as a whole.