Clemson guards 'trending in the right direction' after injuries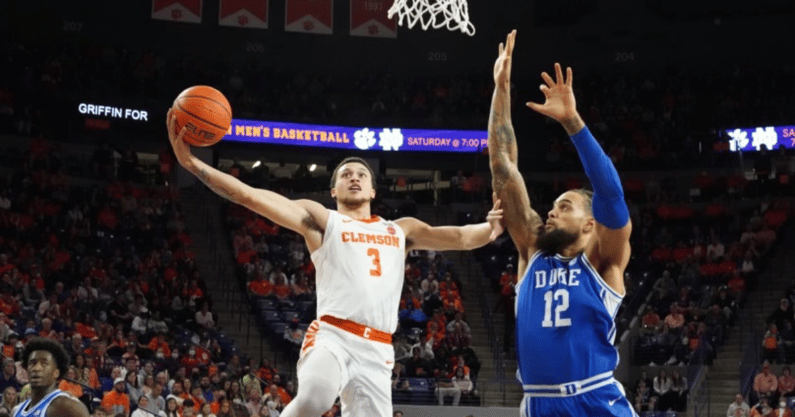 Clemson could get back two important pieces to its roster soon.
Tigers basketball coach Brad Brownell said on the ACC teleconference Monday morning that starting guards Chase Hunter and Alex Hemenway have both made steady progress recently as they deal with foot injuries.
Hunter missed the past two games after injuring his foot against Duke on Jan. 14.
Hemenway has been out for more than a month after being forced to leave the game against Richmond on Dec. 17 early.
"There's a chance [they could play]. They're better," Brownell said. "So we're trending in the right direction. I would say that."
Getting Hunter and Hemenway back would be a big boost to a Clemson team that is off to an 8-1 start in ACC play. The Tigers are currently alone atop the ACC standings.
Clemson hosts Georgia Tech Tuesday at 9.m. The Tigers beat the Yellow Jackets 79-66 in Atlanta earlier this season.
Hunter has started all 18 games he has played in this season and is averaging 14 points per game. Hemenway has started all 12 games he has appeared in and is averaging 9.8 points per game.
Brownell made it sound as if Hunter has a better chance of playing on Tuesday than Hemenway, depending on how Monday's practice goes.
"Chase might be a little ahead. We'll see," Brownell said. "A lot of it will depend on today's practice and what they're able to do. Did a few more things yesterday, which was positive."
Clemson is off to a surprisingly strong start to the season as the Tigers are 16-4 overall, in addition to being 8-1 in league play.
Clemson has won eight of its past nine games after beating Virginia Tech 51-50 on Saturday. The only loss during the stretch came at Wake Forest last Tuesday.
Hunter Tyson and PJ Hall have been particularly good as of late and were key in Clemson's win over Virginia Tech over the weekend.
Hall finished with 20 points and 8 rebounds against the Hokies, while Tyson added 12 points and 10 rebounds.
Tyson's 3-pointer with 9.9 seconds remaining gave Clemson the lead for good and lifted the Tigers to a win.
"He's one of our best players and he's been in it. I just felt like he was going to make a play," Brownell said of Tyson's game-winner. "He had the option – he could shoot the 3, he could drive, he could throw it to PJ. … But I told him, 'If you're open, shoot it.' It was a big time shot."