Dabo Swinney discusses his confidence in DJ Uiagalelei, more at ACC Kickoff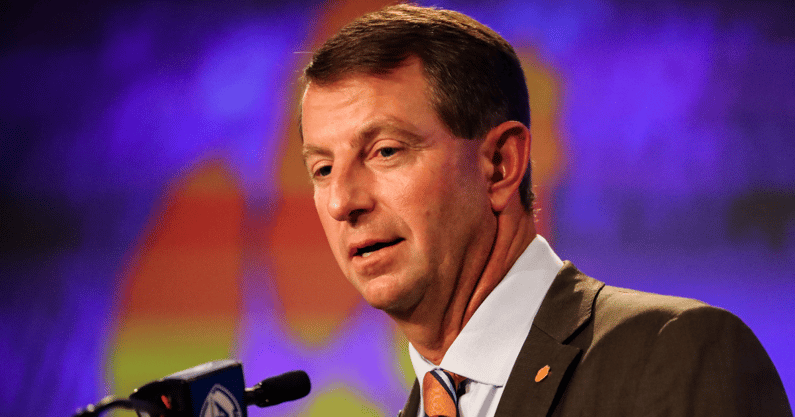 CHARLOTTE — Dabo Swinney, DJ Uiagalelei, KJ Henry and Jordan McFadden represented Clemson Wednesday afternoon at the ACC Kickoff event in Charlotte.
Each player spent time answering questions at the podium, before moving on to the breakout rooms.
Here is a Q&A with what Dabo Swinney said while speaking with the media:
Q: "With name, image and likeness opportunities, you've never had to manage a locker room where somebody was getting more than somebody else. Do you think for college football that's going to be a challenge for coaches to manage that dynamic?"
Dabo Swinney: "Maybe. I've always had to manage a team where some guys played more than others. Some guys played 50 snaps, some guys played 5. I've always had to kind of manage chemistry.
I think they've managed it well. My focus has been on trying to protect them and educate them and train them to be responsible young people and to — not to get themselves in tough situations to make sure we help them navigate that part of the college experience, just like we try to help them navigate everything in the experience, whether it be strength and conditioning or academics, nutrition, sleep, recovery, overall wellness. Whatever. That's just one other aspect. It's been really good for us at Clemson.
Q: "Just what can you say about going into this season and hiring from within at the offensive coordinator and defensive coordinator?"
Dabo Swinney: "First of all, it's not always feasible to promote from within. Sometimes I've had to go outside multiple times over my career, but I think it's best when you can, but it's got to be the right time, the right fit, and all those boxes checked.
This was an easy decision for me. Wes Goodwin has been with me since December of '08. I have never been with a guy more prepared. I'm well aware of what the headlines would be when I named Wes Goodwin the D coordinator at Clemson. Everybody is hitting Google like, 'Who the heck is that?'
He is so deserving and has already done an amazing job, and I'm glad we had an opportunity to go through a bowl, a bowl season, and game under our belt and all that and watch him just be himself.
Probably the best part for me was letting the defensive guys know, 'Hey, here's what we're going to do,' and their enthusiasm and their excitement because they know Wes. They know who he is. They know what he brings to the table, and now to be able to have the hands-on experience going through a bowl, going through the spring and the summer, man, we're ready to roll. He is going to be awesome. I mean, he just has to be himself. That's all I need him to be.
Easy decision. He deserved it. He earned it. I think when you don't promote people that deserve it and earn it and have earned it, there's a breakdown in culture.
Same thing offensively. Brandon Streeter has been with me since December of '14 when we played in the bowl game against Oklahoma there in Orlando. He coached Deshaun for two years. He recruited Trevor. He coached him all three years. He recruited DJ and recruited Klubnik. He deserves it.
He has turned down multiple coordinator jobs in and out of our league, the SEC, NFL. He has had multiple opportunities, but he has been our passing game coordinator for a few years now. With Tony getting the job at Virginia, again, he deserved it, and he has earned it. Also, being able to create new opportunities for some other support staff and some new people like Nick Eason and Kyle Richardson going in different roles as well. It's a lot of fun. Mickey Conn moving into a different role.
Q: "Can you speak on the loyalty within your program? Can you speak to your overall opinion of the transfer portal?"
Dabo Swinney: "I think the greatest asset you have and what's most important is your players. I've always told our coaches, and I hold our coaches accountable for — that's why we don't offer many guys because we're not a catch and release type program. We're a 'til graduation do we part program. It's not me just saying that. 11 out of 12 years top 12 academically, Clemson, Duke, and Northwestern, 98% graduation rate. Been doing this a long time, and that's the main thing in our program.
We recruit young people that value education that align with the things that we offer. Then we talk about serving their heart, not their talent. It's a relationship-driven place. It's always been that way. From time to time it's the right thing for some guys to move on. Whether they're a graduate and maybe they just want more opportunity to play or whatever, but if we do a good job loving our players, serving our players, making sure they have a good experience, making sure that they understand the big picture of development and growth and the long-term value of what we offer, they're going to stay.
I think this team exemplifies that more than anything. We had 109 guys go through spring. 109 guys are still here. Not one person left. There are only four of the Power 65 teams that didn't have somebody leave after spring. That says a lot about what our players think about our coaches but more importantly what they think of their experience and the love of Clemson and their culture and each other. When you have guys even — you got a defensive end position, I mean, we got four D ends that can start for anybody in the country, and they're all seniors. Myles is a junior but might as well be a senior. You have to have a certain level of selflessness and self-awareness. That's not easy to have in today's world. It's all about me type of stuff.
That's a credit to the character of our team the leadership of our team, the culture of our locker room, the accountability and their love for each other.
We brought one guy in from the portal. I call him a boomerang portal in Hunter Johnson. He started with us, and he is coming back to be a third team quarterback for us and finish up his career at Clemson."
Q: "Coach, either rightly or unjustifiably, Clemson fan boards have a lot of opinions on DJ and his on-field performance the last two years. Tell us about your level of confidence in him?"
Dabo Swinney: "They had a lot of great opinions his freshman year, didn't they? They wanted me to sit Trevor for DJ. I had some of them, "I think we should sit Trevor. He is not playing great. Let's put this DJ.
DJ set records as a freshman. He did an amazing job for us. Last year it was a struggle. Like I told DJ, that comes with being the quarterback. Comes with being the head coach. You get a lot of praise and you get all the criticism. That just comes with it. That's part of — comes with the territory so to speak.
Last year, as I've said many times, I've never had a young quarterback, first-year starter who didn't make mistakes, but the past young quarterbacks that I have had the last two young quarterbacks, Deshaun Watson and Trevor, they made mistakes, but we were much better around them. Whereas with DJ, we were not very good around him. So his mistakes were magnified.
Then I think this guy, all he has ever done is win, and now all of a sudden it's disappointment, there's adversity, challenges, and some criticism. How do you respond?
It's disappointing. Next thing you know, people question you, and maybe you lose a little confidence or you try to do too much. That's all part of maturing. He is going to play football for a long time.
I don't need anybody on a message board to tell me who DJ is on a message board. Just ask Terry Don Phillips, I won six games my sophomore year — my sophomore year? My second year as the head coach. I won six games as the head coach. There was a lot of people on the message boards wanting me gone. Right? Then next year we won the ACC for the first time in 20 years. We won 10 games for the first time in 20 years. Now we win 10 games, and they want to fire me.
Terry Don Phillips had a lot of confidence me as a coach. I got a lot of confidence in DJ. Going to graduate in December. Unbelievable young man on and off the field. One of the best leaders that we've had come through. Incredibly committed. He has some scars on him and some shrapnel and some wounds. That's going to serve him well as he goes into this year.
So it's a game of performance, and you can't change that. I can talk about how great he is all day long, he has to go do it. I believe in him, and there ain't no doubt about that. I know who he is. We're going to be better around him, and that's the first thing we've got to do is we've got to be better around him. He has to learn from his mistakes. He has to play better in certain areas that he knows. I believe is he going to do it."
Q: "After Tony Elliott was hired at Virginia, he said you both spoke about his decision to potentially take the job. What advice did you give him, and how prepared do you think he is for this opportunity?"
Dabo Swinney: "I told him he needs to take the job. I told him this is the right one. I felt like he was a great fit for Virginia, and I felt like Virginia was a great fit for Tony and his family. He has turned down several head jobs over the last few years, but I felt like Virginia was the right fit for him. As far as how prepared he is, he is incredibly prepared.
I've been with Tony 19 years. I coached Tony. He was a captain for me. He has been around a long time now. He knows what it looks like. Incredibly smart. Is a very gifted coach.
There's no greater teacher than experience, doing something. A lot like DJ. Going through this past year and gaining all that experience, there's no greater teacher than that. As far as being prepared, he is as prepared as anybody could be to go do it for the first time."