Dabo Swinney has completely changed perception of Clemson football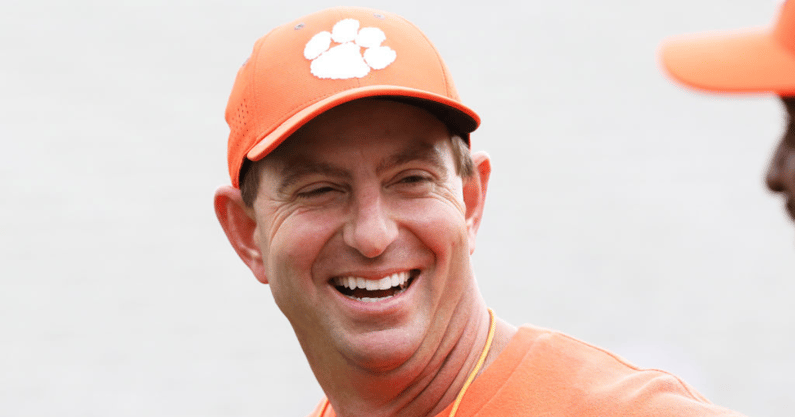 CLEMSON — When Dabo Swinney was hired as the head coach at Clemson midway through the 2008 season, winning 10 games in a year seemed nearly impossible for the Tigers.
Clemson had not accomplished that feat since 1990, and there were no signs that it was getting close to doing so.
Nearly 15 years later, Clemson just won at least 10 games for the 11th straight year, and some viewed the season as a disappointment.
"Hopefully every time we win 10 games, people are disappointed," Swinney said at the ACC Kickoff event. "Because that means that we've maintained the type of consistency in our program that we want."
Swinney has built Clemson into one of the most successful programs in college football.
The Tigers have won the ACC and reached the College Football Playoff six of the past seven years and are contenders to do so again in 2022.
The success has helped Clemson on the recruiting trail, as well. Recruits that are currently 16 or 17 years old haven't seen Clemson win fewer than 10 games since they were five or six years old.
Clemson currently has the No. 7 recruiting class in the country, according to the On3 consensus team rankings.
"It's great that we have heightened expectations at Clemson. And nationally. The kids that come to Clemson today, they can't even wrap their mind around when I tell them when I got the job we hadn't won 10 games in 20 years. We hadn't won the league in 20 years," Swinney said. "They don't know any other version of Clemson. So they think we're supposed to be in the playoff."
With improved quarterback play and better luck with injuries, the Tigers could very well be right back in the playoff picture this fall.
Swinney still loves where Clemson's program is, despite suffering a "down year" with "only" 10 wins in 2021.
"We didn't make [the playoff] for a seventh year in a row. If that means we're bad, I guess we're bad. And if not winning the league seven years in a row means we stink, well then we stink. But I don't look at it that way," Swinney said. "I've had championship teams that didn't have the same type of commitment as last year's team. Now the disappointment is we didn't do a good job of hitting our goals."
Clemson only accomplished two of its five goals last season, winning the state championship and the closer.
The Tigers missed out on winning the opener, the Atlantic Division and the ACC championship.
Clemson is hoping to get back to winning championships in 2022.
"If we can stay consistent, we'll have those years when we do [hit all of our goals]," Swinney said. "That's the biggest thing, just consistency year in and year out."