Dabo Swinney reveals biggest change needed in college football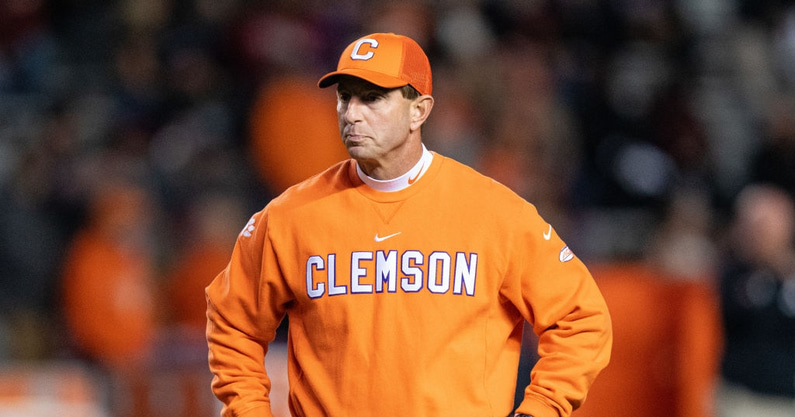 CLEMSON — There is plenty that Clemson head coach Dabo Swinney doesn't love about the current state of college football.
From the way the transfer portal is currently working, to a lack of focus on academics, there is a long list of issues Swinney would like to see fixed.
With that said, one issue in particular is the most frustrating for Swinney entering the summer — the amount of players who are allowed to participate in fall camp.
Swinney addressed the current rule during an appearance on the ACC Network Wednesday morning.
"No. 1, to me, because it's immediate and on my mind and it's incredibly frustrating, is to be able to bring our roster in for camp in the fall," Swinney said. "This 110 rule is ridiculous."
As things stand, only 110 players are allowed to participate in fall camp leading into the season.
That means that walk-ons and other players who might not be counted on to contribute in 2022 will still be on the roster, but they won't be able to work out with the team.
"We're talking about your walk-ons. They go through spring. They're there all summer. They grind. They train. They're paying their way. And we're talking about two weeks of camp, when your team is most exposed ever," Swinney said. "You never have that amount of time where you're practicing back-to-back-to-back. Ever. All year. And you need these guys."
Clemson currently has 109 players on its roster, but that's before summer enrollees arrive on campus. There will also be walk-ons added to the roster prior to the 2022 season.
However, some of them won't be able to participate in fall camp leading into the season.
"We have to tell them, 'Hey, you've got to go sit over there for 12 days, after you've trained all summer,'" Swinney said. "And we're talking about the bottom part of your roster. Because everybody's either got 115, 120, 125. It really doesn't matter. But to not be able to bring your kids in, that drives me crazy."
Swinney has other changes he is hopeful will take place in recent years as well, but that's currently at the top of his list.
"That would be the first thing," he said. "That would be like, 'Poof, done.' It would be simple."