Dabo Swinney 'couldn't be more fired up' about future of Clemson football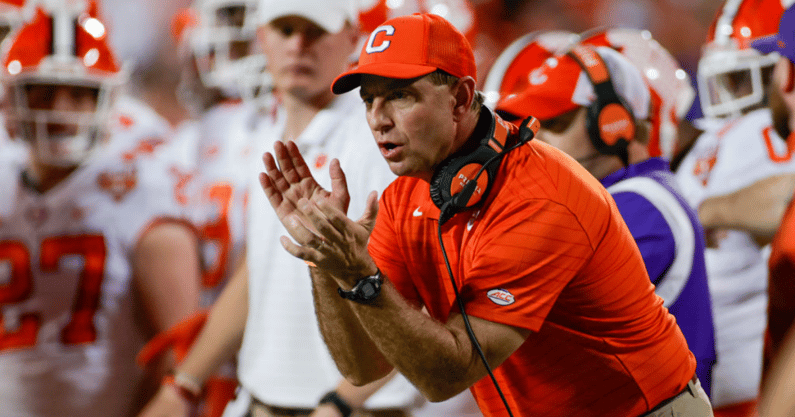 CLEMSON — It's been an eventful offseason for Dabo Swinney and the Clemson football program as Swinney experienced major staff turnover following the conclusion of the regular season, most notably losing both coordinators for head coaching jobs.
But if you thought those departures were going to have Swinney down or worried about the future of Clemson football, think again.
"Coach Swinney couldn't be more fired up, and the energy out of our football building here with the staff changes and certainly losing coach Venables and coach Elliott… it's a little bit of a sea change," Clemson Athletics Director Graham Neff said on Packer and Durham Thursday morning.
"But that chapter turn for our football program and the energy and excitement that coach Swinney has and throughout the building, with the rest of the staff and those changes that we've had, internal and external hires, and then ultimately with the student-athletes — it's been a fun month for Clemson football."
Swinney replaced Venables with defensive analyst Wes Goodwin and promoted Brandon Streeter from quarterbacks coach and passing game coordinator to offensive coordinator. But the changes didn't stop there.
Defensive tackles coach, recruiting coordinator and assistant head coach Todd Bates left for Oklahoma after Clemson's bowl win over Iowa State, and Swinney announced following the bowl game that offensive line coach Robbie Caldwell is moving to an off-field role.
Former Tigers defensive lineman Nick Eason left from Auburn to replace Bates, while Thomas Austin was promoted to replace Caldwell.
Despite all of the changes, Swinney feels good about where the Clemson football program is as the Tigers look to bounce back from a disappointing 10-3 season in 2021.
"As we turn into '22 and get into offseason camp and spring practice and all of that, there's a lot of really, really good MOJO out of our football program," Neff said.
SIGN UP HERE AND GET FULL ACCESS TO CLEMSON SPORTS FOR FREE WITH A 7-DAY FREE TRIAL
More Clemson athletics notes
The Clemson softball program had an incredible season in 2021 as the Tigers won the ACC in their first full year of competition.
Expectations are high for 2022 with superstar Valerie Cagle and several other key players returning, and it's safe to say fans are thrilled with where the program is.
"We've sold out of softball tickets. You can't buy them anymore," Neff said. "We're talking about expansion of the stadium."
Neff feels good about where Clemson is with its new sports that were added last year. The Tigers will compete in women's lacrosse in 2022-23 and in gymnastics in 2023-24.
"We have a women's lacrosse coach here who we hired this summer. Have some commits and some signees. So the matriculation of them this summer and into competing next academic year is exciting," Neff said.
"And we need to hire a gymnastics coach. From a, 'Hey, what are the first couple of things to do on the list?' Looking to hire a new, inaugural gymnastics coach at Clemson here in February, March, April."