As Saban shuns collectives, Napier plans to 'take full advantage' of NIL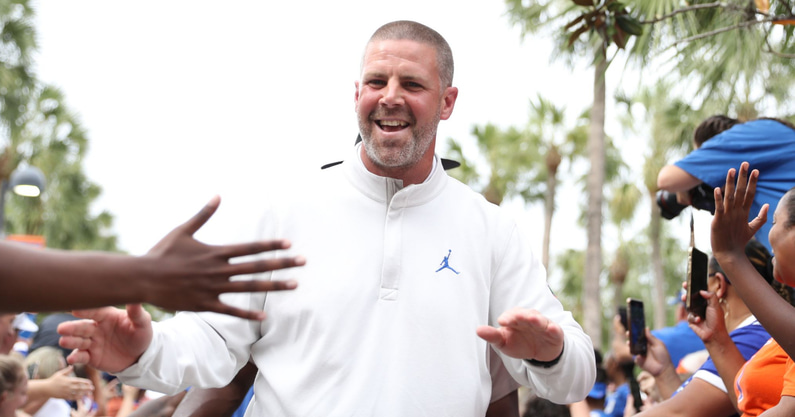 PENSACOLA, Fla. — Before Nick Saban's finger-pointing this week, Florida coach Billy Napier also recently discussed how a select group of schools — including SEC programs — have been using name, image and likeness to their advantage.
Only Napier, unlike his former boss at Alabama and Texas A&M coach Jimbo Fisher, didn't violate any SEC bylaws when he publicly commented on other conference teams.
There were no derogatory statements or recruiting accusations. This discussion took place at his speech in Pensacola last week.
Napier was asked to share his thoughts on NIL. The fan had read that every scholarship offensive lineman at Texas was receiving $50,000.
Napier corrected him.
"100 (thousand)," he interjected.
The fan continued, describing NIL as a bidding war where the rich will get richer, and the poor will get poorer. He mentioned that boosters in Texas have oil money and "they're dying to spend it."
Napier dismissed that notion.
"Well, they're not. They're not. It's that simple. I think that's reality," he said, echoing comments from Florida AD Scott Stricklin, who casted doubt on some of the rumored deals in the NIL market.
The other reality, Napier added, is that NIL is here to say. It will evolve with each year and be regulated at some point, but it's not going away.
From his perspective, that's a good thing for the Gators.
"So, NIL. First of all, the University of Florida should almost feel liberated. I'm serious. I'm not joking," Napier said. "Recruiting is very competitive. It's cutthroat. A lot of things happen that maybe shouldn't happen. But what I would tell you is that name, image and likeness is an avenue where you can impact recruiting in a positive way.
"You can do it state law approved, you can do it compliance approved. You can affect the recruiting dynamic. … What we need to realize is we're living in an era where this is here. I don't necessarily know that we're in a time where this is going to change much for a while. But while we have this environment, we gotta take full advantage of it."
A handful of schools already have.
Napier was asked about Texas but name-dropped a few more programs who are playing to win the NIL competition.
"You're seeing kind of every school right now is coming up with their strategy on how they're going to try and be competitive in this arena," Napier said. "You saw a few teams last year, they jumped out and took full advantage of it. You just talked about Texas and Texas A&M, so now everybody is playing that game. Tennessee is playing that game. Miami is playing that game. And I think we have some avenues at the University of Florida where we can do this with some integrity and do it the right way.
"I've said this publicly, at the University of Florida, NIL should be a strength with the alumni network and passion that we have. We've come up with some avenues where it's 501(c)(3), non-profit related. It's a tax write-off. Everybody is well aware of the Gator Collective and the Gator Guard."
Saban must be.
After apologizing to Jimbo Fisher and Deion Sanders for singling out their programs over NIL, the Alabama coach said his real beef is with the collective model.
"I think collectives are the issue. If I'm an alumnus and I want to go through a marketing agent and create an opportunity for a player to represent my company, whether it's Coke or Mercedes-Benz or Tyson Foods, that's fine. That's what name, image and likeness is supposed to be," Saban said on ESPNU Radio. "But if money is raised through a collective to use to give to players — money, I'm not saying opportunities to represent — that's no different than the alumni giving the player money."
Saban is OK with an athlete being a spokesman for a car dealership, but appears to be against events like the Annual Fan Fest hosted by Gator Collective on Saturday.
But are collectives just giving players money? Napier wanted to address that common misconception during his speech last week.
"Let me say this, this is real life experience for the player. Everybody thinks you're just throwing money at the player, right? Like you're just buying the guy. 'Hey, I'm going to give you this amount of money, you come play at Florida.' It's not that. That's not what it is," Napier said.
Fan donations toward the Gator Collective create opportunities for athletes to earn compensation in exchange for exclusive content and experiences with UF athletes for those fans, such as Saturday's event.
More specifically, the Collective negotiates deals for athletes and also connects them with various industries to help them with PR, marketing, finance, tax and community service.
"These guys, they gotta work. You're going to work for a non-profit, you're going to do an internship, you're doing real-life experience. You may be doing that in Tampa or Orlando or coming up here to Pensacola," Napier said. "And I do think this is healthy for the player, OK? I gotta learn about budgeting. I gotta learn about taxes. I gotta learn about long-term financial planning. I gotta save some money for that transition after I graduate.
"The same things you would want for your son, we're going to try and implement those things through GatorMade. Everything we're doing at Florida are things that make sense, that are above board, that are compliance approved, state law approved. And hey, I'll be straight up with you. We need to roll our sleeves up and get in there and compete. That's as simple as I can say it. If we don't, we're going to watch the competition do it."