Everything Tennessee head coach Josh Heupel said about the Gators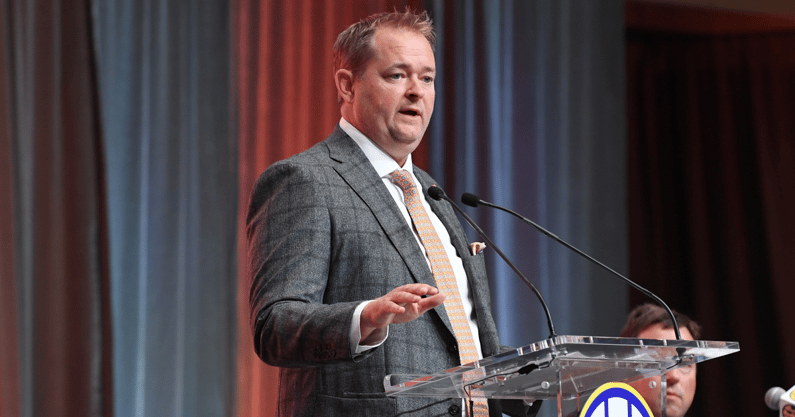 GAINESVILLE, Fla. — The No. 11 Tennessee Volunteers are gearing up for a top-20 matchup inside Neyland Stadium against the No. 20 Florida Gators. The Gators have dominated the series, winning the last six games and 16 of the last 17. This season, however, Tennessee comes in ranked higher, with more momentum, and is hungry to change the series.
On Monday, Tennessee head coach Josh Heupel held a media session. Here is everything he had to say about Billy Napier and the Gators.
When was the first time Heupel was informed about the rivalry with the Gators?
"Probably 30 seconds after I arrived here on campus. This is one of the ball games that this fanbase and our players point to, too. Obviously, being a fan of college football, I've seen the great games and the rivalry itself play out. That's why you come here. You want to be a part of these types of games. You want to have an opportunity to have College GameDay on your campus and be the prime-time slot and have a sold-out stadium. We're excited to see the fan base and Vol Walk, I know will be electric, and when we run out of that T, there won't be a better atmosphere in college football."
On Anthony Richardson
"First of all, he can throw the football. He can do that on the move, and he can do that from inside the pocket. He's big, physical, imposing. You have to bottle him up in the quarterback run game. At the same time, as you're trying to apply pressure when they're dropping back to throw it, he has the ability to make you pay if you don't have rush integrity inside of your pass rush lanes. We've done a better job this year than we did a year ago, but that's going to be a critical part of the football game."
On Florida's defense
"Highly skilled. That's their front four. Being able to apply pressure and disrupt your run game. Secondary is long and athletic like you would anticipate them to be. There are schematic battles that will be fought on Saturday afternoon, but then there's 1-on-1 battles that are going to have to be won by our players out on the field too."
Gerald Mincey playing against his former team
"I joked with him a little bit today. He gets the chance to go compete against a few guys who he's got a pretty good understanding of who they are and what they're about. Give a little scouting report this evening on the front. He's played really well. I think he's continuing to get better and more comfortable in what we're doing. He's executed really well in the pass game. (He) continues to get better in the run game too. I expect him to have a big ball game on Saturday."