Gators make top six list for On300 OT Michael Uini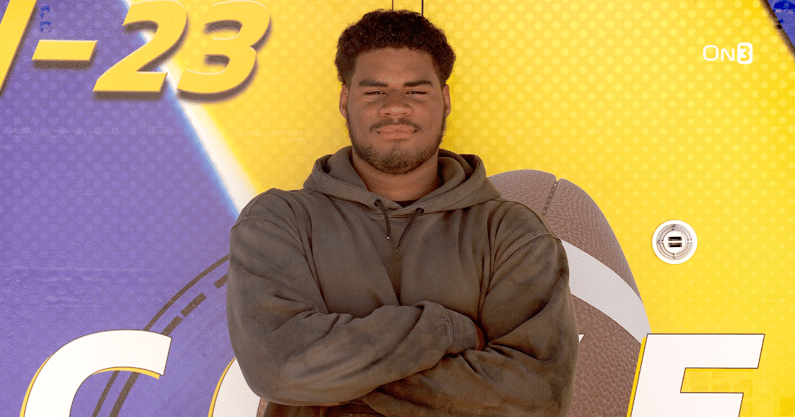 The Florida Gators have been included in On300 offensive tackle Michael Uini's latest list, as the Texas native is now down to six schools. The Gators were included alongside Alabama, Texas, Georgia, Michigan and Clemson.
Uini has yet to visit Gainesville, but his first trip to the Sunshine State will go down during the second week of June. He's locked in an official visit with Florida from June 9-11, joining Florida linebacker commit Myles Graham, four-star linebacker target Aaron Chiles and four-star tight end target Walter Matthews, just to name a few.
According to the On3 Industry Ranking, Uini comes in as the No. 152 overall prospect in the 2024 class. Ranked as an offensive tackle, the 6-foot-7, 295-pound is a top 10 player at his position. Uini is ranked as a four-star according to all four media outlets included in the On3 Industry Ranking.
As you can expect, the Gators continue to push the right buttons to stay in the thick of things during Uini's recruitment.
"The way Florida recruits me is the reason why they got an official visit," Uini told Gators Online. "They call and text almost every day checking up on me and my family. That means a lot to me."
"It's coach (Rob) Sale and coach (Darnell) Stapleton," Uini said of his contacts at Florida. "It's usually, 'How are you doing, Mike?' or 'How's the family?' They send inspirational quotes or messages all the time. I would say the relationship is there and locked in."
On3 Scouting Report on Florida target Michael Uini
"Big-bodied athlete who has all the makings of a future NFL draft pick at the offensive tackle position. Prototype frame and build who has a college-ready body type heading into his junior season.
"Raw from a technical standpoint but has the rare combination of size and athleticism that college coaches covet. Basketball player as well who can get up and two-hand slam flat-footed.
"High upside prospect with all the physical and athletic tools to be successful at the next level."