Jalen Kimber playing in his first Florida-Georgia game as a Gator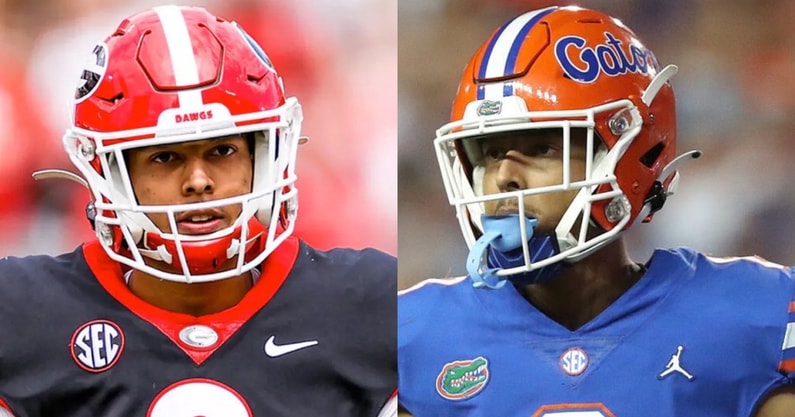 GAINESVILLE, Fla. — The 2022 Gators football roster features a pair of former Bulldogs on the defensive side of the ball. While UF outside linebacker Brenton Cox Jr. is appearing in his fourth Florida-Georgia game Saturday, it will be cornerback Jalen Kimber's first time experiencing the rivalry.
Kimber didn't play in the World's Largest Outdoor Cocktail Party at UGA during his redshirt year or his second season. Kimber was a projected starting cornerback for Georgia coming out of spring practice in 2021, but he suffered a preseason shoulder injury that required season-ending surgery after two games.
Unfortunately for Kimber, he hasn't been 100 percent with the Gators in 2022. He broke his left hand prior to the opener against Utah but has played in all seven games this fall with a cast that's heavily wrapped.
It didn't prevent him from making a pick-six in the win over South Florida. He jumped in front of a Gerry Bohanon pass and returned it for a 39-yard touchdown.
Kimber graded out as one of Florida's top five players on defense through the first half of the season, according to Pro Football Focus.
"Jalen's done well. You know, had some big plays earlier in the year," UF coach Billy Napier said of Kimber on Wednesday. "He's battled through an injury; he's played through injury. He's really showed some toughness and loyalty to the team. And certainly, a young player that has got a lot of opportunity to continue to improve and develop. But he's got a great attitude, he works extremely hard and is a good young player."
Serving as the backup to Jason Marshall Jr., Kimber has logged seven tackles and a pass breakup in addition to his first career turnover. After his performance his USF, Kimber graded out as the nation's highest graded cornerback in Week 3 (per PFF) and was recognized by Napier in the locker room.
"Jalen Kimber made a decision a couple weeks ago. He had a broken hand, and he could have said, 'Hey, I'm gonna go ahead and have surgery.' But the guy said, 'You know what, I want to continue to play. Our team needs him, and the guy had a pick-six. Give it up for Jalen Kimber," Napier told his team.
Kimber on transferring to Gators
Kimber entered the transfer portal after Georgia's national champion season and joined the UF football program in January. Gators cornerbacks coach Corey Raymond factored heavily into his decision.
"It's been like the best place for me," Kimber said of Florida. "In the portal I just looked at my options, and I already had a relationship with Corey Raymond, so I felt like that was the best option for me. I feel like him, just being a corner, you guys know his resume already, so I just felt like it was the best decision for me."
Kimber was non-contact in the spring coming off shoulder surgery, but Raymond had a feeling the former UGA cornerback would catch on quick (even with a cast).
"He's doing well. He's been in this type of system," Raymond said of Kimber during spring ball. "You just see that he's going to be really good."