Kowacie Reeves, Trey Bonham go off as Florida beats Florida A&M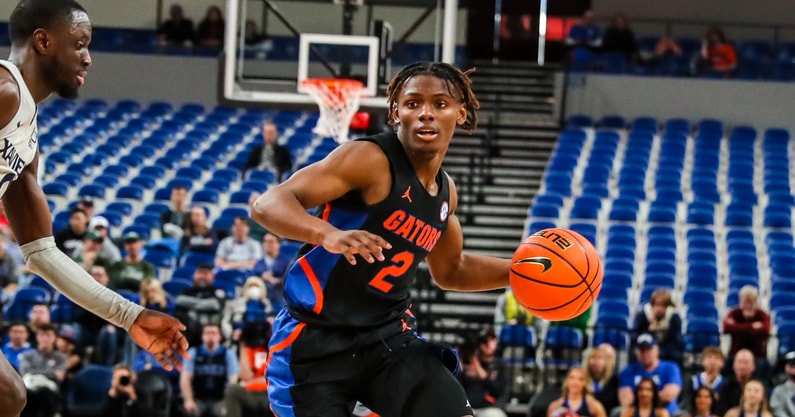 The Florida Gators cruised to their fifth victory on Wednesday as they beat the Florida A&M Rattlers 102-62 in the Stephen O'Connell Center. Behind a hot shooting night, the Gators eclipsed 100 points on 62.1% shooting.
In his first game back after sparsely playing in Portland, Kowacie Reeves saw himself back in the starting lineup and immediately made his presence felt. Reeves started off the game 3-3 from three with 11 points, playing with extreme energy after seeing his minutes at a minimum during the Phil Knight Legacy tournament. While on the floor on Wednesday, Reeves was +35.
To start the game, Trey Bonham, Riley Kugel, Kowacie Reeves, CJ Felder and Colin Castleton took the floor with Will Richard and Kyle Lofton out injured. On his 19th birthday, guard Kugel made his first career start, finishing with six points and two boards and a steal.
Florida jumps out to early lead and cruises
Florida started the game off with a 19-2 run with Reeves scoring the first five of Florida's 12 points. Bonham had 17 points at the half on 5-5 shooting, nailing a three-ball at the buzzer to give the Gators a 50-31 halftime lead. Bonham finished the game with 23 points, finishing a perfect 7-7 from behind the arc.
In his press conference on Tuesday, Todd Golden made it clear he was not happy with the team's defense in Portland. The Gators responded on Wednesday, holding the Rattlers to only 34.5% from the floor.
Castleton made sure to spread the wealth, as he recorded a career-high five assists in the win. LSU transfer Alex Fudge recorded a double-double, the first of his young career.
The spread closed at 32.5 in favor of the Florida Gators, which the Gators covered, despite Lofton and Richard being out.
The win was exactly what the doctor ordered, as the Gators finished sixth in the Phil Knight Legacy tournament over the weekend. The Gators moved to 5-3 with the win, at the Rattles fell to 1-5.
Next up, Florida takes on Stetson on Sunday at 2 p.m.