Peagler putting the pieces together at tight end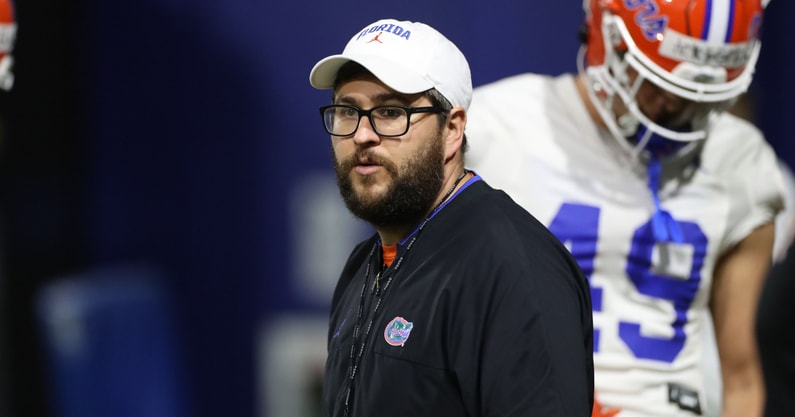 Florida Gators new tight ends coach William Peagler inherited a position with veterans in Keon Zipperer and Kemore Gamble. There was also young talent and a full room. Thursday night he'll take the field with a group that features two defensive linemen.
It's been a tough spring camp for the Gators' tight ends. Nick Elksnis and Jonathan Odom were both sidelined with injuries, while Gage Wilcox suffered a career-ending injury. Gamble left prior to spring camp to spend his last year at UCF.
That left Peagler with just one scholarship tight end.
"The good news for us is even though we've had some injuries and things of that nature, we've been able to get other guys from the other side of the ball," he said. "It might not be the exact guy that we want in that spot, but we've been able to still have the same type of practice and all that stuff throughout spring ball."
Gators tight ends: An island of broken toys
The Gators were fortunate to have Dante Zanders on the roster. He came to Florida as a tight end prior to moving to the defensive line.
Zanders has been able to make a pretty seamless transition back to tight end. It may even be a permanent transition with the new coaching staff.
"I think so," Peagler said of the switch. "I've been above and beyond pleased with Dante. I think Dante has got a real chance to help us in the fall."
Zanders has been a godsend and Griffin McDowell also moved from the defensive line. Peagler said that both Elksnis and Odom will be back for fall camp, while Zipperer had his best practice last Thursday.
"I thought he had his best day of the spring (Thursday). I've seen him get incrementally a little bit better," Peagler said of Zipperer said. "I think anytime you're in a new system, there's a little bit of a learning curve, but I really liked the way he attacked (Thursday). I thought it was his best day."
Peagler gets his break into coaching
It's true, but Peagler has been dealt a rough hand for his first couple of months in Gainesville. That isn't going to stop him. He's worked his way into this position by taking advantage of opportunities.
He got his break into coaching while serving the Clemson football team at Outback Steakhouse. Peagler, a student at the time, had a conversation with then-offensive coordinator Rob Spence.
Peagler noticed Spence had a copy of 'The Carolina Way' by Dean Smith.
"I was working at Outback and we cooked for the team after the spring game," Peagler recalled. "And Coach Spence, who was the offensive coordinator at the time, had some book sitting there that I'd read and I just made general conversation with him. He was like, 'Huh, what do you want to do?' I was like, 'Actually coach, I want to be a college football coach.' Specifically, at the time, at Clemson. He said, 'Why don't you come to my quarterback meeting?'"
Peagler showed up and Spence gave him a homework assignment on inside zone. He studied the article for two days and returned to Spence's office, where he could rattle off the information verbatim.
"And from there, he just gave me a bunch of busy work and I just kept doing and kept doing," said Peagler, who eventually crossed paths with Clemson's tight ends coach at the time, Billy Napier.
The two hit it off and Peagler worked under Napier for four years. He thinks Napier might have been taking advantage of some discounted meals and free labor.
"Because I was always in the office and Coach Napier was 26 at the time, I think he was trying to get ahead on some things. I was always there," Peagler said. "So eventually it was just kind of natural, 'Hey, come on. Let's go to this.' We started eating dinner together and watching ball together. He made me send all these recruiting tapes; he put me to work now, make no mistake about it. It wasn't all leisure activities taking advantage of my 50 percent off at Outback. But it was pretty fun."