Previewing the Florida Gators center position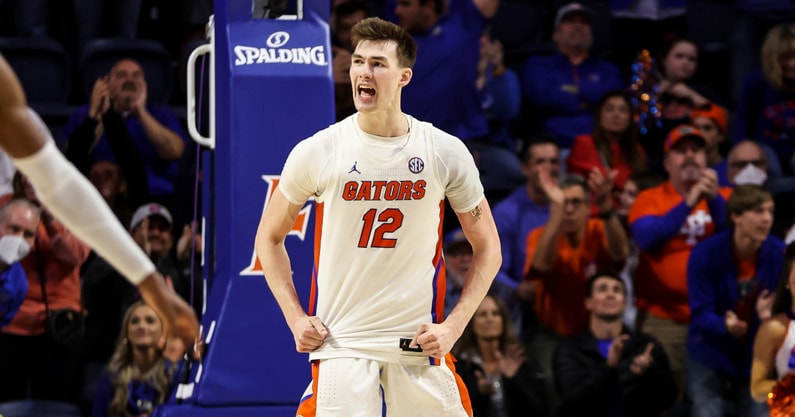 The center position was nearly a major question mark for the Florida Gators heading into the 2022-23 season. The problem was solved on April 11 when Colin Castleton announced his return to Gainesville for his final season.
Castleton was the face of the Gators last season en route to his second straight All-SEC second team selection. Often drawing double teams, Castleton still managed to lead UF with an average 16.2 points, 9.0 rebounds and 2.2 blocks.
He will likely receive preseason conference honors but could find himself on the All-SEC first team by year's end. Castleton will have at least two more opportunities to face off against Wooden Award winner and Kentucky forward Oscar Tshiebwe to prove his worth.
Where Jitoboh fits in
All the talk ahead of the season will surround Colin Castleton, but Jason Jitoboh returns for his fourth season with Florida. Jitoboh provided quality minutes for UF in 2021-22, and he'll have to do so again this upcoming season.
He started in place of Castleton (shoulder) during SEC play and played his best basketball, but his season was upended with an eye injury that he suffered at Tennessee. Jitoboh averaged 4.1 points and 2.4 rebounds in 10.7 minutes per game.
His injury proved to be fatal to Florida's NCAA Tournament hopes as Castleton ended up being the team's only true center from that point forward. Jitoboh's presence will be necessary for the Gators to make a serious push for an SEC title run.
Who else could be in the mix?
Although he plays power forward, Aleksander Szymczyk stands at 6-foot-10, 233 pounds. That's plenty of size to play the five.
If UF head coach Todd Golden is looking to play with a quicker lineup, he will have options in the front court. Szymczyk may not see the floor at all in his first season with the Gators, but it is something worth monitoring.
There's no doubt that this is Castleton's position and team. But unlike last year, there's depth behind him and the Gators have multiple bigs who will make noise in SEC play.