Previewing the Florida Gators power forward position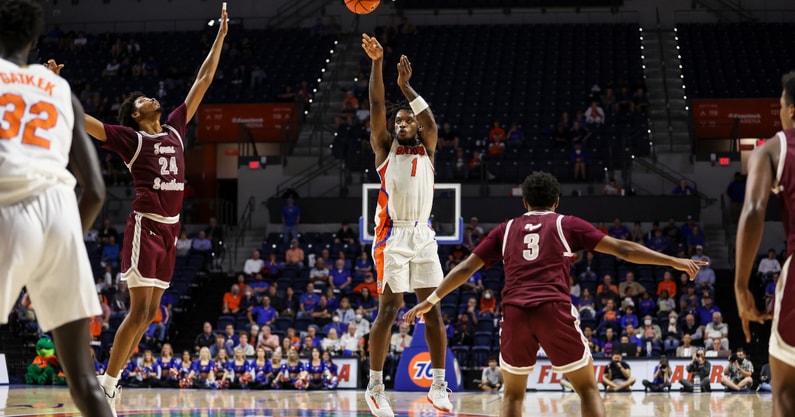 The power forward position was consistently a problem for the Florida Gators throughout the 2021-22 season. Lack of depth and injuries hurt UF the entire year.
CJ Felder was the only true power forward on the roster. He battled injuries throughout the season as the Gators failed to make a push for the NCAA Tournament.
With that, Florida asked its other players to do too much. Colin Castleton was consistently double teamed at the five. Anthony Duruji needed to be one of UF's top rebounders at 6-foot-5.
Golden answers the call
UF head coach Todd Golden answered the depth issue in the transfer portal and overseas. First, it must be mentioned that Felder returns for his senior season and could be the starter.
On April 13, Alex Fudge announced his transfer from LSU to Florida. He averaged 3.3 points and 3.2 rebounds in his lone season with the Tigers. At 6-foot-9, 194 pounds, he provides some length for the Gators.
Golden rounded out his inaugural scholarship roster last month with the addition of German power forward Aleksander Szymczyk. He stands at 6-foot-10, 233 pounds and provides another presence down low.
Who will start?
Considering Szymczyk is coming in during summer practice, he's certainly going to be behind Felder and Fudge.
However, Szymczyk and Castleton would create a size advantage over a majority of Florida's opponents. He could turn heads and make his way onto the court this season.
With Felder's experience, he may have the upper hand. It's important to note, however, that Golden and his staff are very excited about Fudge's potential.
Felder's first two seasons in Gainesville were considerably better statistically and perhaps he will rise to that level of play under Golden's regime.
Regardless of who starts, Felder and Fudge will both play considerable minutes for the Gators this upcoming season.