Previewing the Florida Gators small forward position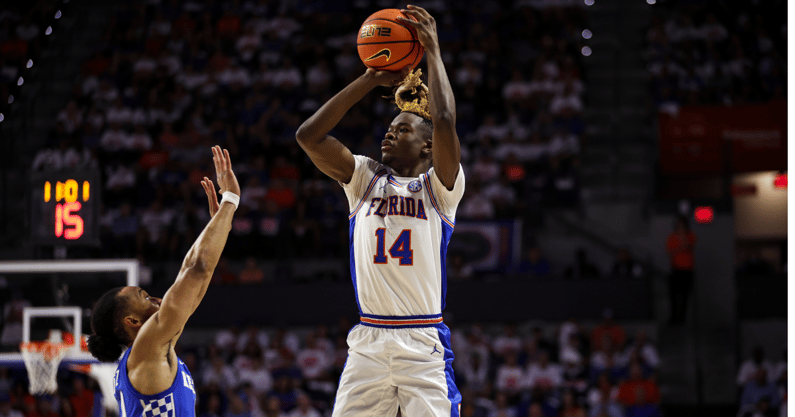 Three of the names in contention to start at shooting guard for the Florida Gators are also competing for the small forward position.
Those players are Kowacie Reeves, Niels Lane and Will Richard.
It's no secret that the position and role of the three-spot caters more to Reeves and Richard's style of play, but it's hard to count Lane out.
One thing to keep in mind is that Reeves entered the transfer portal for just two days before announcing he would be returning to Gainesville for his sophomore season. He clearly came back for a reason.
Who leads the three-horse race?
Reeves and Richard have shown they are both capable of playing the small forward/wing position.
Lane's lack of 3-point shooting ability likely keeps him on the outside looking in when it comes to starting. However, he will certainly be on the court this season for UF.
Considering Reeves has a year of experience with the Gators under his belt, it's hard to think this is not his spot to lose.
In the 2021-22 season, Reeves averaged 5.5 points while shooting 37.9 percent from the field and 33.3 percent from 3-point range. He turned heads in the final three games, scoring at least 14 points.
Richard, Lane will be in contention
However, Richard will not be letting Reeves win the starting job with ease. In his lone season at Belmont, he averaged 12.1 points and six rebounds on 46.6 percent hooting with a 32.6 percent mark from beyond the arc.
Richard put on a show in Belmont's first round NIT loss against Vanderbilt, posting 22 points and eight rebounds. Even if Richard doesn't earn a starting role, he will play crucial minutes for the Gators this season.
Lane, on the other hand, looked like what Florida fans hoped he'd be in the back half of last season. Although he averaged just 3 points, Lane shot 53.3 percent from the field and also helped the Gators off the glass. 
His marquee performance was against Texas A&M in Florida's second round SEC Tournament loss. Lane put up a season-high 16 points and nine rebounds. If he finds consistency this offseason, he will compete for a starting spot.