Top 10 calls Mick Hubert made as voice of the Florida Gators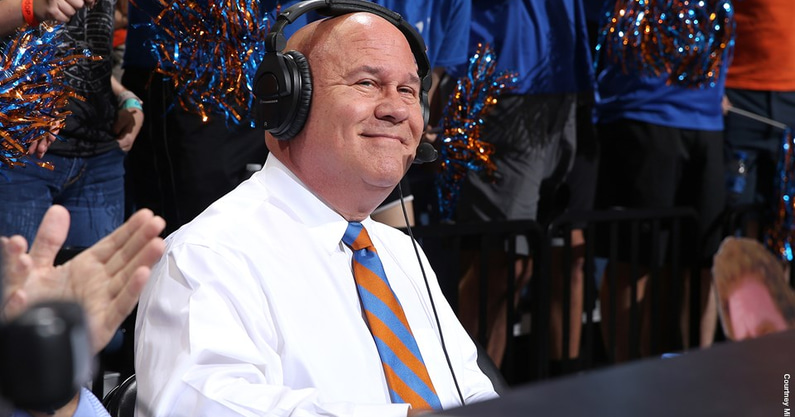 Mick Hubert is calling it a career after 33 years as the voice of the Florida Gators.
He will be retiring this weekend following the UF baseball series with South Carolina. Hubert replaced David Steele in 1989 and has called every Florida football game since.
He is the only broadcaster in history to call national championship wins for the same school in college football (three), men's basketball (two), and baseball (one).
Hubert considers his call of Danny Wuerffel's touchdown pass to Chris Doering at Kentucky in 1993 as the one that "put him on the map" in Gator Nation.
"I've probably listened to that over 100 times in my life," former UF athletic director Jeremy Foley said. "You could feel his passion. He wasn't just calling that as a play-by-play guy. He was calling it as a Gator. That's the magic he brought to a Gator broadcast."
Here are the top 10 calls Mick Hubert made during his time behind the mic.
"DOERING'S GOT A TOUCHDOWN!"
Chris Doering's game-winning touchdown at Kentucky in 1993, which launched Hubert's career.
"GREATEST MOMENT IN GATOR FOOTBALL HISTORY!"
The Gators beat rival FSU in the 1996 national championship game to win their first title.
"HORN SOUNDS! BALL GAME IS ALL OVER! OH MY!"
UF basketball blows out UCLA to win the 2006 national championship, the first in program history.
"IT'S BEEN BLOCKED AGAIN! OH MY! IT'S BEEN BLOCK AGAIN!"
Hubert loses it as Jarvis Moss blocks South Carolina's game-winning field goal attempt in 2006.
"HE'S GOING TO SCORE! HE'S GOING TO SCORE!"
Antonio Callaway's game-winning touchdown to beat Tennessee in 2015.
"OOOH MY! I CAN'T BELIEVE WHAT I JUST SAW!"
Tyrie Cleveland's touchdown catch on a Hail Mary to beat the Vols in 2017.
"HE DIDN'T GET THERE! HE DID NOT GET THERE!"
Florida's goal-line stand against LSU to win the 2016 SEC East title.
"IT'S GOOD! IT'S A 3! AND THE GATORS HAVE WON THE GAME!"
Chris Chiozza's game-winning 3 in Madison Square Garden to send the Gators to the Elite 8.
"FLORIDA HAS WON THE NATIONAL CHAMPIONSHIP IN BASEBALL!"
The Gators defeat LSU in the 2017 College World Series to win their first title in program history.
"OH MY! THIS PLACE, YES INDEEED, IT'S AN INSANE ASYLUM!"
Joe Burrow throws his first career interception on a Brad Stewart pick-six, prompting Hubert to reference his legendary "insane asylum" call from Florida's upset over No. 1 FSU in 1997.