Nolan DeLong makes college decision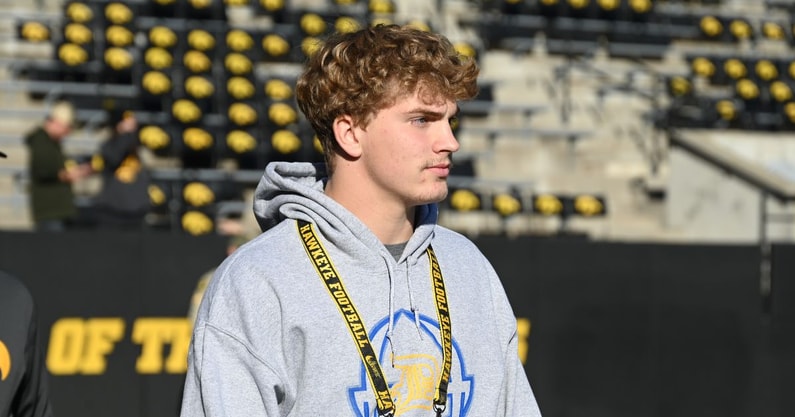 Durant (IA) standout Nolan DeLong has made his college decision. The 6-foot-1, 205-pound DeLong announced today that he has accepted a preferred walk-on opportunity from the Iowa Hawkeyes.
DeLong was also considering scholarship offers from FCS programs South Dakota and Northern Iowa, among other opportunities. Last week, he received a visit from Iowa head coach Kirk Ferentz and linebackers coach Seth Wallace, which helped him arrived at his decision.
"It is truly an amazing opportunity to play for a school that I have dreamed about playing for since the 4th grade," DeLong told HawkeyeReport.com. "Playing at the next level has always been a goal of mine. Now, it will come down to how much work I am willing to put in in order to get minutes on the field and fulfill that childhood dream."
A dominant player on both sides of the ball for Durant in Class 1A, DeLong finished his senior season with 250 carries for 2,111 yards and 21 touchdowns on offense along with 66 tackles and 14 tackles for loss on defense. Following the season, he was named district MVP honors and captain of the all-state team.
At Durant, DeLong is a four-sport athlete, competing in football, basketball, track, and baseball. This winter, he is the team's leading scorer on the basketball court at 18.9 points per game. Last spring, in track, he qualified for the state meet in the 100 meter dash as well as the 4×200 and 4×400 meter relays. Also, in baseball, he batted .306 last season as a junior with 15 stolen bases.
In college, DeLong projects on the defensive side of the ball, likely starting out at safety and growing into a linebacker.
Iowa's Class of 2023 Walk-Ons
Hayden Large – 6-foot-4, 240-pound TE transfer from Dordt University
Austin Kutscher – 6-foot-0, 198-pound WR transfer from Ohio State
Jackson Filer – 6-foot-3, 230-pound DE from Iowa Western Community College
Watts McBride – 6-foot-1, 185-pound DB from Cedar Rapids, IA
Aidan McDermott – 6-foot-2, 190-pound WR from Cedar Rapids, IA
Jalyn Thompson – 6-foot-4, 235-pound TE from West Des Moines, IA
Judah Mallette – 6-foot-2, 185-pound WR from Chicago, IL
CJ Leonard – 6-foot-3, 185-pound WR from Shawnee, KS
Ryan Kuennen – 6-foot-3, 245-pound DE from West Des Moines, IA
Cael Winter – 6-foot-3, 250-pound OL from Waukee, IA
Luke Pollack – 6-foot-4, 200-pound WR from Deerfield, IL
Jack Laughlin – 6-foot-1, 202-pound LB from Carlisle, IA
Tommy Poholsky – 6-foot-2, 200-pound QB from Evergreen, CO
Nolan DeLong – 6-foot-1, 205-pound LB from Durant, IA