Ready to report: Cannon Leonard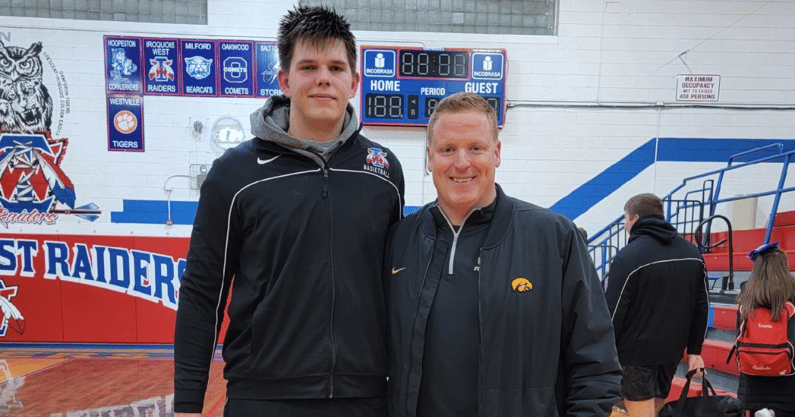 We continue our Ready to report series by catching up with incoming offensive lineman Cannon Leonard. He's a very interesting prospect because he's a legit 6-foot-8 plus and has a background playing pretty high level AAU basketball.
Leonard visits with us about how he started out as a basketball prospect and ended up playing football. How he played AAU basketball with a pair of future Hawkeyes. Why Illinois, where his brother plays, didn't recruit him, and when the moment arrived that he knew he wanted to commit to Iowa.
We also have the interview in podcast form: LISTEN TO THE PODCAST HERE!
Q: You were just telling me that graduation is coming up. How exciting is that for you?
LEONARD: It's going to be great. I am valedictorian of my class and being a three sport athlete and an all-state performer who leaves behind a legacy at my high school is going to be great. But, I am really looking forward to that next step.
Q: In the journalism business, you buried the lede a little bit. You are valedictorian of your class. That's really impressive. You will also have to give a speech. Is the speech written?
LEONARD: Yeah the speech was written earlier this week and turned in.
Q: Was it a tough speech to write?
LEONARD: It kind of all felt natural. I was just writing down memories from the last four years and what our whole class has accomplished. Then how our future is bright.
Q: What have you been doing this spring from a sports perspective? I know you are doing track. What else have you been doing?
LEONARD: I finished up basketball in March. Then I went right into indoor track season and then outdoor track. I just qualified for state meet that will be this Thursday. While all of this has been going on, it's been workouts, training, and keeping up with my nutrition so I can put on weight while getting stronger and faster.
Q: At signing day they had you at 6-8 and 270 pounds. Is that still accurate or are you a little bigger now?
LEONARD: I am between 6-8 and 6-9 and now up to around 285 pounds, maybe 287.
Q: What events are you doing in track and field?
LEONARD: Just shotput and discus. In one meet, me and some other throwers ran the 4 X 100.
Q: Wait, you ran a 4 x 100? How was that?
LEONARD: It was alright. (laugh)
Q: What was your 100 time in that?
LEONARD: I think around 13 seconds.
Q: Was basketball your first love as a sport?
LEONARD: Yeah that as definitely my first love. Coming into high school I was dreaming about playing Division 1 basketball. I was even on an AAU team with some Iowa basketball players and we traveled all around the country. I was looking to get into a college basketball program.
Q: You played with Brock Harding and Owen Freeman on the Mid-Pro AAU team. That had to be a fun experience for you.
LEONARD: I started at that program a year before them. I was our #1 big guy. Then Owen came in and Brock came in and the whole program changed. To be able to play with them was great. You could tell that they were really good players.
Q: This podcast is on the record as being big fans of Brock Harding. What are Iowa fans going to see with him at the point guard position?
LEONARD: He is by far one of the best players I have ever played with. He is really creative in the way he plays. A lot of people might say he's undersized, but he makes up for it with his leadership and his personality is amazing too.
Q: When does it switch from I want to play D1 basketball to I can be a D1 football player?
LEONARD: I think it was probably around the quarantine time where I started getting letters from college football teams. My older brother had just committed to play at Illinois and I heard from him a lot that I was going to have better opportunities at a football player. I started to fall in love with the sport and found my dream.
Q: When does Iowa reach out to you?
LEONARD: They had always sort of been in touch. It was mainly during my junior year. Last spring I heard from Coach Barnett and he invited me to camps. This past summer is when I went to their camp and things really took off after that. I performed well at camp and then I got the offer and a few weeks later is when I committed.
Q: How does Illinois miss out on you?
LEONARD: I really don't know. I attended their camps and was looking to play with my brother for another four or five years. I just didn't ever seem to work out down there. I found my home at Iowa and I am glad that I did.
Q: How are your parents going to handle this rivalry?
LEONARD: They are going to support both of us. They don't lean one way or the other. There's already been some rivalry within the household being brothers. They think it's pretty fun.
Q: One of the hallmarks of the Iowa recruiting class is they get tight as a group. What's that been like for you?
LEONARD: Yeah, we are all in a group chat together. The relationship has just grown. We see each other on visits and games and the relationship keeps building.
Q: 6-foot-9 is considered pretty big for football. What is the challenge for someone with your size playing football?
LEONARD: The challenge is you have to drop your pad level to go against a lot of guys. I thinkt that's something I have learned because I played guard in high school, but college is going to be completely different. I think I use my strengths a lot with almost a 7 foot wingspan and my athletic ability really helps me out.
Q: Do you feel like having played basketball and the movements you need in basketball have helped you in football? Like moving side to side.
LEONARD:  Yeah it's been a key factor in how I have performed in football. With lateral quickness and the way that I have to move my feet is a big thing for an offensive lineman. It has taught me some things that have made me a good football player.
Q: Tell me about your relationship with Coach Barnett?
LEONARD: It's an amazing relationship. He was the one that invited me to camp. He was the one that always talked with me and did a lot of the recruiting of me. After the camp, he talked with me and invited me back for a visit. He grew up not too far from here, so he's used to this style of life. It's been a great relationship.
Q: Is there a little bit of a chip on the shoulder with this OL group coming in? Kadyn Proctor was a headliner and he was committed for a long time and left for Alabama. Do you guys feel like, hey we can show everyone that we are pretty good?
LEONARD: Yeah. Losing Proctor was a big thing for our class. He made his own decision and did what was best for him. Now it's our job to come in and do the best that we can. With Trevor, Leighton, and Kade, we are looking to make a difference. I feel like we all really can.
Q: You do the shotput. Did you see Kade Pieper's shotput the other day?
LEONARD: Yeah that was crazy. He just glides. There's no fancy spin or anything. It's pure muscle out to 63 feet.
Q: What are you looking forward to most about being a Hawkeye?
LEONARD: I think one big thing is now they develop me. They have developed plenty of offensive linemen that have been great. One of my big goals is to make it to the next level after college and I feel like Iowa is the best opportunity to do that. I am really looking forward to getting there and learning and becoming a better player.
Q: What do you remember about the day you decided that you were going to be a Hawkeye and the called the Iowa coaches to let them know?
LEONARD: I had recently went on a visit and that day I was walking out and talking with my parents and I think they could tell that I wanted to commit. It just felt like the place where I belonged as soon as I walked into the building. Then to make the call and make it official was a huge relief, but it really made me motivated as well.
Q: You have been to Iowa games this past season. You see the guys coming out of the tunnel with Back in Black playing. This fall you get to be part of that in uniform. How excited are you to be part of that?
LEONARD: Watching that as a recruit, you just get chills. To be a part of that and to run out of the tunnel is going to be amazing.