TE Grant Leeper headed to Iowa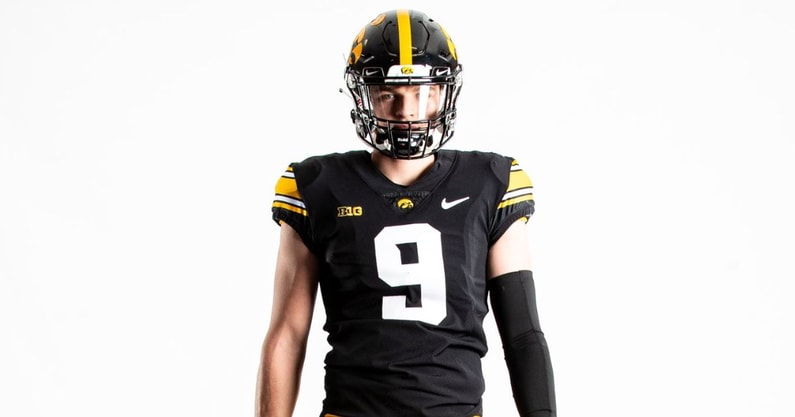 Tight end Grant Leeper is headed to Iowa. The 6-foot-7, 215-pound Indiana native announced his commitment to the Hawkeyes today after taking official visits to Iowa and Wake Forest this past week.
"The coaching staff was the biggest difference between the schools," Leeper told HawkeyeReport.com. "Iowa is giving me the best opportunity to make it to the NFL."
For now, Leeper is accepting a grayshirt opportunity at Iowa, which means he will wait until January 2024 before he goes on scholarship unless one opens up before then. Wake Forest and Indiana also offered grayshirt opportunities. Other scholarship offers during the recruiting process included Army, Navy, Ball State, Eastern Michigan, Youngstown State, and Eastern Illinois.
In Leeper, the Hawkeyes are getting a tight end with high upside that is just beginning to scratch the surface. Last fall was his first year of playing high school football and he finished the season with 27 catches for 376 yards and six touchdowns. At 6-foot-7 and 215 pounds, there is major potential there for the senior from Homestead High School in Fort Wayne.
Impact for Iowa
Getting Leeper on board as a grayshirt recruit is pretty much an ideal scenario for the Hawkeyes. First of all, it allows the Iowa coaching staff to focus on the transfer portal with any remaining scholarships. Secondly, Leeper is a developmental prospect that is still growing into his frame and learning the position. If he ends up taking a grayshirt year, that will allow him even more time to add strength and bulk up a bit before his eligibility clock starts ticking.
Looking at the tight end room at Iowa, the 2023 team will have Luke Lachey, Erick All, Steven Stilianos, Addison Ostrenga, Cael Vanderbush, and Zach Ortwerth on scholarship. Now, they have Grant Leeper will the flexibility of adding him to the 2023 roster or waiting until January of 2024 depending on how the scholarship numbers shake out.