LSU Injury Updates: Mississippi State Week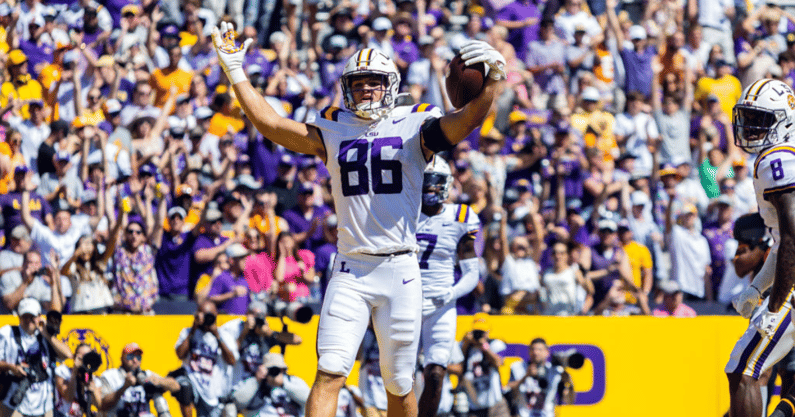 The LSU football team moved to 1-1 on the season with a 72-10 win over Grambling State in week two, which kept the Tigers at No. 14 in the AP Top 25 polls.
On Saturday, LSU kicks off the Southeastern Conference schedule with an 11 a.m. road game in Starkville.
What's the status of LSU's injured players headed into SEC play?
LSU's Injury Report
LSU head coach Brian Kelly listed just two players on this week's injury report, which will be updated again before kickoff on Saturday.
TE Mason Taylor … Probable … Taylor suffered a sprained ankle in the win over Grambling State, which limited him to 22 snaps. Kelly listed Taylor as probable for the SEC opener, and it's likely the sophomore tight end took things easy in practice this week. Through two games, players listed as "probable" by Kelly have suited up and played. That's great news for LSU's offense. If Taylor isn't able to go, true freshman Mac Markway, who was on the field for more than 30 snaps in week two, would be next up.
LB Omar Speights … Probable … One of LSU's starting linebackers left the GSU game with an injury when Speights exited after just 26 snaps. He's listed as probable, which is good news for the senior's chances of playing on Saturday in Starkville. After transferring in from Oregon State, the All-Pac 12 performer now has more than 50 career starts. With Harold Perkins moving back into an edge rusher role, Greg Penn III joined Speights as starting linebackers. If Speights is out, the next name up is likely West Weeks, who had a solid showing against GSU.
Additional notes to know
CB JK Johnson … The transfer cornerback out of Ohio State will miss the entire 2023 season with an injury. Johnson underwent successful surgery on a leg fracture that is set to keep him sidelined until at least December, Kelly said this week.
RB Logan Diggs … Diggs battled an injury in fall camp that kept him sidelined in the week one loss to FSU, but he made a big splash in his LSU debut when he rushed for more than 100 yards against Grambling State. The Notre Dame transfer looks healthy and ready to roll, and it won't be a surprise if Diggs leads the Tigers in carries this weekend.
RB John Emery … LSU gets Emery back on Saturday after the senior sat out the first two games as a result of an academic suspension. Kelly said Emery has worked as the team's scout team running back the first two weeks, which has him fresh and ready to roll for his 2023 debut in Starkville.
WR Landon Ibieta … Ibieta was banged up to close out fall camp, and he didn't see action across the first two weeks of the season. While he wasn't mentioned in Kelly's injury report, it's likely the wide receiver's hip injury is still an issue.
S Matthew Langlois and S Kylin Jackson … Langlois was sidelined for more than half of fall camp, as was a true freshman safety Jackson. Neither have seen game action through two weeks. We will take that to mean they aren't cleared to play just yet.