3&Out: Load management issues finally catch up to Michigan State in loss at Indiana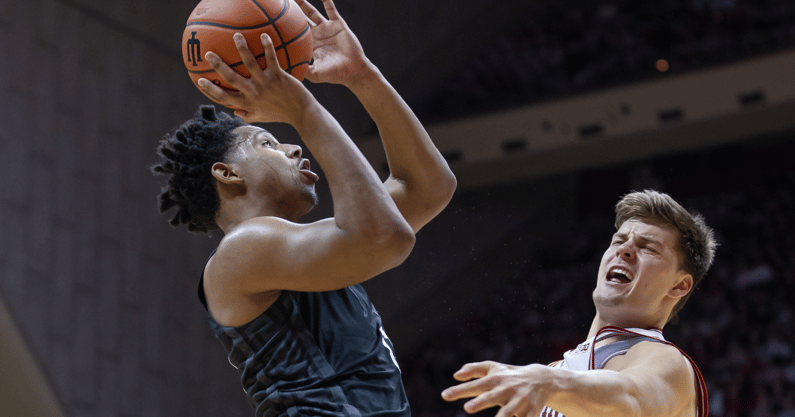 Michigan State played stretches of solid basketball on the road at Indiana, but couldn't overcome fatigue, foul trouble, and red-hot Indiana shooting in an 82-69 loss. Now the Spartans will return home, and regroup for a home game against Iowa on Thursday. That game will be the first since Michigan State played Michigan (Jan. 7) earlier this month that the Spartans have had more than two days to prep for a conference opponent.
Continue reading for a basketball 3&Out.
1. Fatigue a factor in Michigan State's defensive struggles
Michigan State came into this game holding conference opponents to 26.6 percent from behind the 3-point line. Indiana scorched the nets from three, and tired legs had a lot to do with it.
After making 4-of-10 from three in the opening half, Indiana made its first four threes of second half to open a six-point lead, 57-51. The Hoosiers went on to shoot 60 percent from three, making 9-of-15 line in this game. Indiana's ability to knock down threes enabled the Hoosiers to bounce back from sluggish starts at the outset of each half.
In the second half, those threes gave Indiana the cushion it needed to close out the game by getting the ball inside to Trayce Jackson-Davis, who finished with 31 points and 15 rebounds.
"In the second half, they hit threes," Tom Izzo said, "and they haven't been making a lot of them."
Tired legs hurt Michigan State the most on defense. That's not to say, however, that fatigue didn't hurt Michigan State on offense. The best version of Michigan State offensively was on display at the start of each half. In the first half, Michigan State jumped out to a lead thanks to the gritty play of Joey Hauser. In the second half, Michigan State started out making seven of its first nine shots. Things fell apart from there, and fatigue was a big reason why with these two teams having uneven schedules.
This was Indiana's third game in 11 days while it was Michigan State's third game in seven days, and the Spartans' sixth game in 16 days. Some observers expected the Spartans to feel the fatigue problem on Thursday against Rutgers, but Michigan State played through it on that night but it caught up to the Spartans in Bloomington. Izzo was mostly understanding and supportive of his team's effort on this day, because of the Big Ten scheduling circumstances, which he has been blasting in recent days.
2. AJ Hoggard wasn't himself against Indiana
Hoggard gave everything he had earlier this week against Purdue and Rutgers, and it was obvious from the get-go that he wouldn't have much for this game. Hoggard's rough day started on the very first offensive possession for the Spartans, a wild attempt at a jump hook that didn't come close to going in.
Those are the types of plays in the lane that Hoggard has made with regularity this season. That opening miss was a precursor of things to come for Hoggard, who went 2-of-8 from the floor, recording his first field goal with just over two minutes remaining in this game.
Hoggard picked up his second foul with 8:17 remaining in the first half. This was a critical turning point in this game. The Spartans were up by seven points when he left the game, and they floundered the rest of the way in the half. Hoggard wasn't at his best on this day, but the Spartans were even worse without him.
"When he went out of the game, we didn't play very well on either end, and that is probably the way it would be," Izzo said.
This should have been a game where Hoggard got into the lane and had good scoring opportunities, with a little help from solid screens to wall off Trayce Jackson-Davis or other would-be Indiana shot blockers. Hoggard did get to the line a good number of times, but he never had the body-control that he typically displays with is shoulders square, using his strength to finish three-point plays.
This game for Hoggard felt a lot like the one that Tyson Walker had at Notre Dame, coming off a brutal West Coast trip. Walker wasn't himself in that game, and Hoggard wasn't himself in this game. Playing too many games in a short amount of time is the common denominator for both players.
3. There were some positives for Michigan State
Defensively, Jaden Akins wasn't as effective as he's been in recent games. On offense, however, Akins is starting to look like the player that teammates and coaches were raving about in the summer prior to his foot injury. Even on tired legs, Akins was able give Michigan State a boost in transition, and that is a big deal. The sophomore guard also continues to shoot the ball well. His 15 points matched the career-high he set against Oakland on Dec. 21.
Akins was 6-of-8 from the field, including 3-of-4 from three. We've seen Akins score in double figures before, but this was one of his most efficient games. His feel for the game on the offensive end of the floor appears to be improving as he gains steam after coming back from a stress reaction injury which sidelined him earlier in the year.
Hauser showed once again that he is capable of carrying this team when it needs that from him. Hauser led Michigan State in scoring with 22 points on 6-of-12 shooting. And on a night where getting a lift on perimeter jumpers was going to be difficult due to recent workload, Hauser did a good job of aggressively looking to score inside. The biggest negative in Hauser's game was the number of minutes he played, logging 36 minutes the loss. Izzo admits that he has been using Hauser too much, with Malik Hall out, but the Spartans don't have many options.
Michigan State needs Hauser to continue to produce at a high level moving forward, and to do so until Hall comes back. He has shown himself to be remarkably durable throughout the season, but every game Hauser plays beyond 32 minutes there is a risk of long-term wear and tear and diminishing returns.
Hauser was outstanding on offense in the early going of this game. But the load management issue is showing itself on the boards. Hauser had 12, 10, 10, 8 and 11 rebounds in five games between Dec. 30 and Jan. 13. But he has had just 5, 6 and 6 rebounds in Michigan State's last three games, and he was pushed around at key junctures in this game on the boards.
Michigan State was not very good when all three of its freshmen were on the floor at the same time, but the trio of Jaxon Kohler, Tre Holloman, and Carson Cooper did gain valuable experience. That experience came at a cost, but it is experience nonetheless that can help each first-year player grow and help them become more useful as the season progresses. Coming off his first double-double last time out against Rutgers, Kohler started this game strong on both ends of the floor. He struggled defensively in the second half, but he continued to battle.