Baltimore Ravens officially hire Mike Macdonald away from Michigan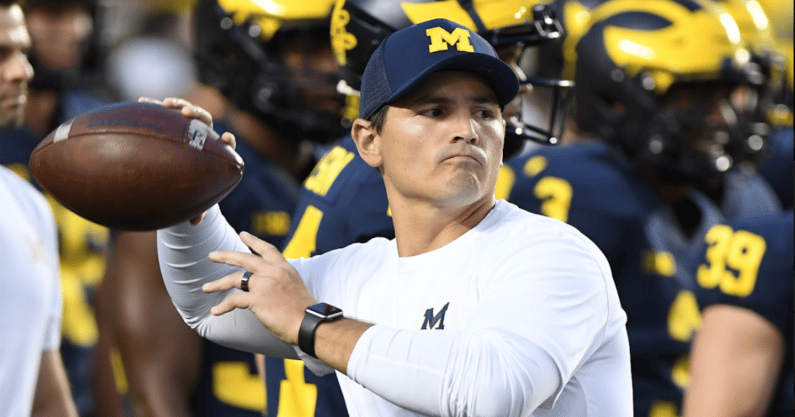 Michigan defensive coordinator Mike Macdonald will be a one-hit Wolverines wonder. Baltimore coach John Harbaugh hired the first-year U-M coach back from his brother, Jim, to join his staff with the Ravens.
Macdonald will be the team's defensive coordinator, the job he held at Michigan for a year.
"Mike is one of us – a Raven through and through," John Harbaugh said in a release on BaltimoreRavens.com. "During his initial seven seasons with us, it was evident that his leadership, intelligence and passion would earn him the opportunity to be a defensive coordinator in the NFL.
"Mike has continuously proven himself, including when he led one of the country's best defenses at Michigan last year. He is a proven play-caller who knows our system well. He also fully understands the standard of playing defense in Baltimore."
Macdonald spent seven seasons (2014-20) on John Harbaugh's defensive staff before joining Jim Harbaugh t Michigan. The 34-year-old was a defensive assistant, defensive backs coach and linebackers coach in Baltimore before leaving for U-M last year.
From 2018-20, Macdonald led a Ravens linebackers corps that helped Baltimore produce the NFL's No. 1 overall defense (307.8 yards per game). It also allowed the league's fewest points per game (18.2). Veteran linebackers Matthew Judon (2019-20) and C.J. Mosley (2018) each earned Pro Bowl nods under Macdonald's tutelage.
The now-former Michigan assistant replaces Wink Martindale, who was relieved in Baltimore after four seasons as coordinator. He was on Harbaugh's staff for 10 seasons.
Michigan finished the season eighth nationally in scoring defense, allowing 17.4 points per game. They were 20th in total defense (330.9) and 11th in red zone touchdowns allowed (45.71 percent). 
Secondary coach Steve Clinkscale will be co-coordinator in 2022. Jim Harbaugh will look for another to join him, having already started the process.
For the latest on that, click here: Inside the Fort, Part I: Search for a new Michigan defensive coordinator