Best Michigan defender, Minter's impact, Rayshaun Benny & more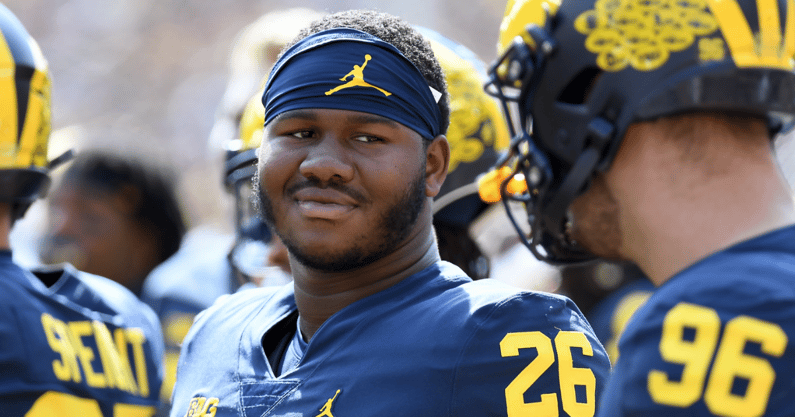 Michigan head coach Jim Harbaugh had to look for another defensive coordinator sooner than expected when Mike Macdonald left for Baltimore. He found the perfect replacement in Jesse Minter. 
RELATED
Michigan football – That championship vibe has returned
Harbaugh talks offensive line, "great athlete" at tackle
Minter spent a year at Vanderbilt after leaving Baltimore the same year Macdonald did, and he was just getting his feet wet. He was always the logical choice to replace Macdonald, though. The transition has been nearly seamless given that the two friends worked together with the Ravens, have the same philosophy and approach the game the same way.
"He's really got the real even keel demeanor you need from a play caller. He really understands offenses," Harbaugh said on the recent In the Trenches podcast with former Michigan lineman Jon Jansen. "To be able to defend an offense or attack an offense and the protections or cover them in their route schemes, you have to have a really good understanding. It's the same way an offensive play caller needs to really understand defense. To know how to attack, where they're weak, where you can get a matchup. 
"He's super into meetings with the players. He's really good with the staff. He takes input, asks for input, works really hard at it. He's got a real good, maniacal competitive streak to him, as well, which is really very important."
Harbaugh would know, having one of those personalities himself.
At the same time, the Michigan coach said, Minter knows when to dial it up and when to pull back.
"All really good things," Harbaugh added. "Never once flustered or out of gas or overwhelmed. He makes it look easy. And lot of the really great ones have the ability to make it look easy."
Harbaugh identifies best Michigan defensive player in spring, most improved
Quite a few players on defense are being called upon to replace tackle Chris Hinton, ends David Ojabo and Aidan Hutchinson, linebacker Josh Ross and three starters in the secondary. Vince Gray, Brad Hawkins and Dax Hill all played huge roles in the defensive backfield, and they won't be easy to replace. 
But several are making moves, and one in particular is leading the defense. It starts up front, and he's stood out.
"Some really important roles there. Right off the rip I would say Mazi Smith may turn out to be our best defensive player," Harbaugh said of the Michigan tackle. "[End/tackle] Mike Morris is going to be right in there, as well. 
"[But] the guy who has come so far, so fast and played so good when you snap on the tape of the Iowa game and Georgia game is Kris Jenkins. He's continued to just be dominant in the way he gets off blocks, runs to the football. He's continuing to grow in his strength. Tremendous … I think of him as the J.J. McCarthy of the defense. He's a kid in the candy store, always looking for opportunities, always having a good day."
Michigan redshirt freshman Rayshaun Benny, too, is starting to make a move, Harbaugh added. 
"The floor for a bad play is so much higher than it used to be," the Michigan coach said. "He's making some consistently good plays, getting off blocks, getting to the passer. Rayshaun Benny is going to be a really good player, I predict."