Sources: Jim Harbaugh plans to sign with the Minnesota Vikings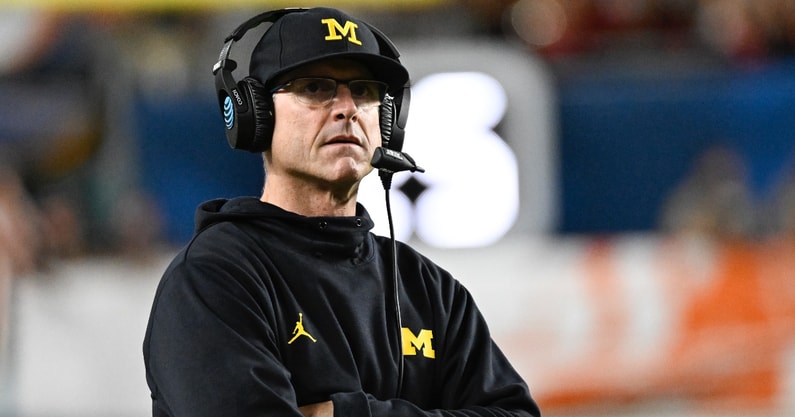 Michigan football head coach Jim Harbaugh is headed to Minnesota for a Wednesday interview, but multiple sources say it's a formality. Harbaugh heads there planning to sign a deal to become the NFL Vikings' head coach.
Harbaugh was not in his office at Schembechler Hall this afternoon. Other sources told TheWolverine.com that while he didn't address the team, he did say some "goodbyes" and "thank yous" yesterday.
Until then, it had been business as usual, with Harbaugh recruiting and making his spring schedule.
Harbaugh was linked to the Las Vegas Raiders in December, with many believing he was the franchise's top candidate. The Miami Dolphins opening emerged, but owner and Michigan booster Stephen Ross vowed he "wouldn't be the one to take Harbaugh from Michigan."
There was speculation Ross would get involved if it became a foregone conclusion Harbaugh was headed to the NFL. Instead, Harbaugh is expected to replace Mike Zimmer as the Vikings' next head coach.
Michigan's players are in wait and see mode, as are the coaches. At least a few are expected to join Harbaugh in Minnesota.
"Everyone is wondering if they'll have a job much longer," a source in the building said. "The team will be notified of everything on Thursday."
Harbaugh led Michigan to the Big Ten title in his seventh season, a 12-2 record with a win over Ohio State and No. 3 national finish.
Sources have also confirmed that Carolina Panthers coach Matt Rhule is, indeed, on Michigan A.D. Warde Manuel's wish list to replace Harbaugh should the Wolverines make an external hire. Rhule is coming off a pair of five-win seasons at Carolina, but he had great success at Temple, including a pair of 10-win seasons. He led Baylor to an 11-win season his third year, but finished the 2019 season with losses to Oklahoma and Georgia.
Rhule, however, never beat a ranked team during his time with the Bears.
If the Wolverines go with an internal hire, sources believe it's Mike Hart — not Josh Gattis — who will get the look. The running backs coach was Associate Head coach at Indiana in addition to RBs coach. He joined Harbaugh's staff after helping lead the Hoosiers to an outstanding season, including a win over U-M.
Watch for more on these Harbaugh developments in the hours and days to come …